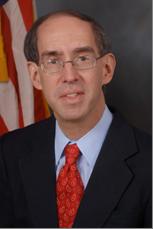 Dr. Jerry Menikoff
Director, Office for Human Research Protections (OHRP)
Jerry A. Menikoff, M.D., J.D, is the Director of the Office for Human Research Protections (OHRP), a component of the U.S. Department of Health and Human Services (HHS). This office is responsible for protecting the rights, welfare, and well-being of subjects involved in research conducted or supported by HHS. In addition, OHRP provides leadership in the protection of subjects by providing clarification and guidance, developing educational programs and materials, and maintaining regulatory oversight.
Prior to joining OHRP, Dr. Menikoff served as the director of the National Institutes of Health (NIH) Office of Human Subjects Research, responsible for day-to-day oversight of the NIH intramural research program's human research protection program, including policy development and educational activities.
Dr. Menikoff held several academic positions prior to his government service. He served for nine years as the chair of the human subjects committee and the hospital ethics committee at the University of Kansas Medical Center. He also was on the faculty of schools of law at the University of Chicago and other universities. Immediately prior to coming to the federal government, he was Associate Professor of Law, Ethics and Medicine at the University of Kansas.
Dr. Menikoff's research interests have concentrated on bioethics in general, and more particularly on the ethics of research with human subjects. Dr. Menikoff is the author of Law and Bioethics: An Introduction (Georgetown University Press) and What the Doctor Didn't Say: The Hidden Truth about Medical Research (Oxford University Press).
Dr. Menikoff received his undergraduate degree from Harvard University (magna cum laude in Mathematics, 1973), and also received in 1977 a J.D. (magna cum laude; Editor and Officer of the Harvard Law Review) and M.P.P. (Public Policy) from Harvard. Dr. Menikoff earned an M.D. in 1986 from Washington University (St. Louis).