NVAC Chair: Kimberly M. Thompson, ScD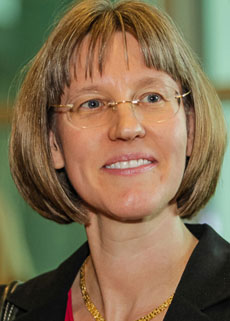 NVAC Chair | Term: 3/14/2015 – 3/14/2019
Participates on: All Working Groups, as NVAC Chair
Kimberly M. Thompson, ScD, is Professor of Preventive Medicine and Global Health at the University of Central Florida College of Medicine and President of a non-profit research organization called Kid Risk, Inc., which focuses on improving children's lives by understanding, characterizing, and communicating about pediatric and adolescent risks. 
Prior to moving to Florida, Dr. Thompson served on the faculty at the Harvard School of Public Health for over a decade where she created and directed the Kids Risk Project.  Dr. Thompson's research and teaching advance the analytical methods used to assess health risks considering the impacts of variability (i.e.,real differences between individuals), uncertainty (i.e., imperfect information), and time. 
During the past decade, Dr. Thompson and collaborators developed an integrated analytic model for global poliovirus risk management that continues to yield insights that contribute to global policy discussions and decisions, which the Institute for Operations Research and the Management Sciences (INFORMS) recognized with its prestigious 2014 Edelman Award. 
With over 100 peer-reviewed publications in a wide range of journals, Dr. Thompson brings a broad perspective and depth in the topics of risk analysis, health communication, health economics, and health policy.  She received the 2004 Society for Risk Analysis Chauncey Starr Distinguished Young Risk Analyst Award and the 2008 System Dynamics Society Jay Wright Forrester Award.
Content created by National Vaccine Program Office