Goal 2: Improve Access to Quality of Person-Centered Treatment Options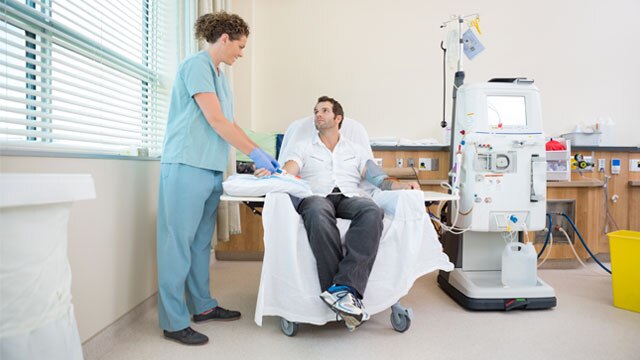 We are looking to improve the accessibility to quality person-centered treatment options.
Kidney Failure
Provides an introduction to kidney failure, information on kidney failure treatment types, and a discussion of choosing the right treatment
Kidney Disease Education Lesson Builder
Information to help educators create and implement lesson plans for counseling patients with CKD about managing their disease and preparing for renal replacement therapy
Prepare for Kidney Replacement Therapy
Information about preparing patients who develop kidney failure for the possibility of kidney replacement therapy.
Kidney Precision Medicine Project
The Kidney Precision Medicine Project is an ambitious, multi-year project funded by the NIDDK with the purpose of understanding and finding new ways to treat chronic kidney disease (CKD) and acute kidney injury (AKI).
United States Renal Data System (USRDS)
The United States Renal Data System (USRDS) is a national data system that collects, analyzes, and distributes information about chronic kidney disease (CKD) and end-stage renal disease (ESRD) in the United States. The USRDS is funded directly by the National Institute of Diabetes and Digestive and Kidney Diseases (NIDDK). USRDS staff collaborates with members of Centers for Medicare & Medicaid Services (CMS), the United Network for Organ Sharing (UNOS), and the ESRD networks, sharing datasets and actively working to improve the accuracy of ESRD patient information.
Content created by Assistant Secretary for Health (ASH)