Mapping Hepatitis Elimination in Action
A growing number of hepatitis elimination projects are being established across the United States. These projects implement the National Viral Hepatitis Action Plan's call for more coordinated and collaborative efforts aimed at elimination. A wide range of stakeholders including states, local jurisdictions, health systems, and non-governmental organizations are leading and engaging in these efforts across a variety of settings. To help keep track of these promising efforts, we have developed this map.
Our goal is to benefit all stakeholders in the fight against viral hepatitis and:
help stakeholders find others who believe it is feasible to eliminate the public health threat of viral hepatitis;
provide the opportunity to learn from and contact others who are pursuing similar goals;
expand support for elimination efforts by identifying existing efforts that stakeholders can join; and
raise awareness of the growing number of states, local jurisdictions and non-governmental organizations that are setting their sights on achieving the elimination of viral hepatitis among the people they serve.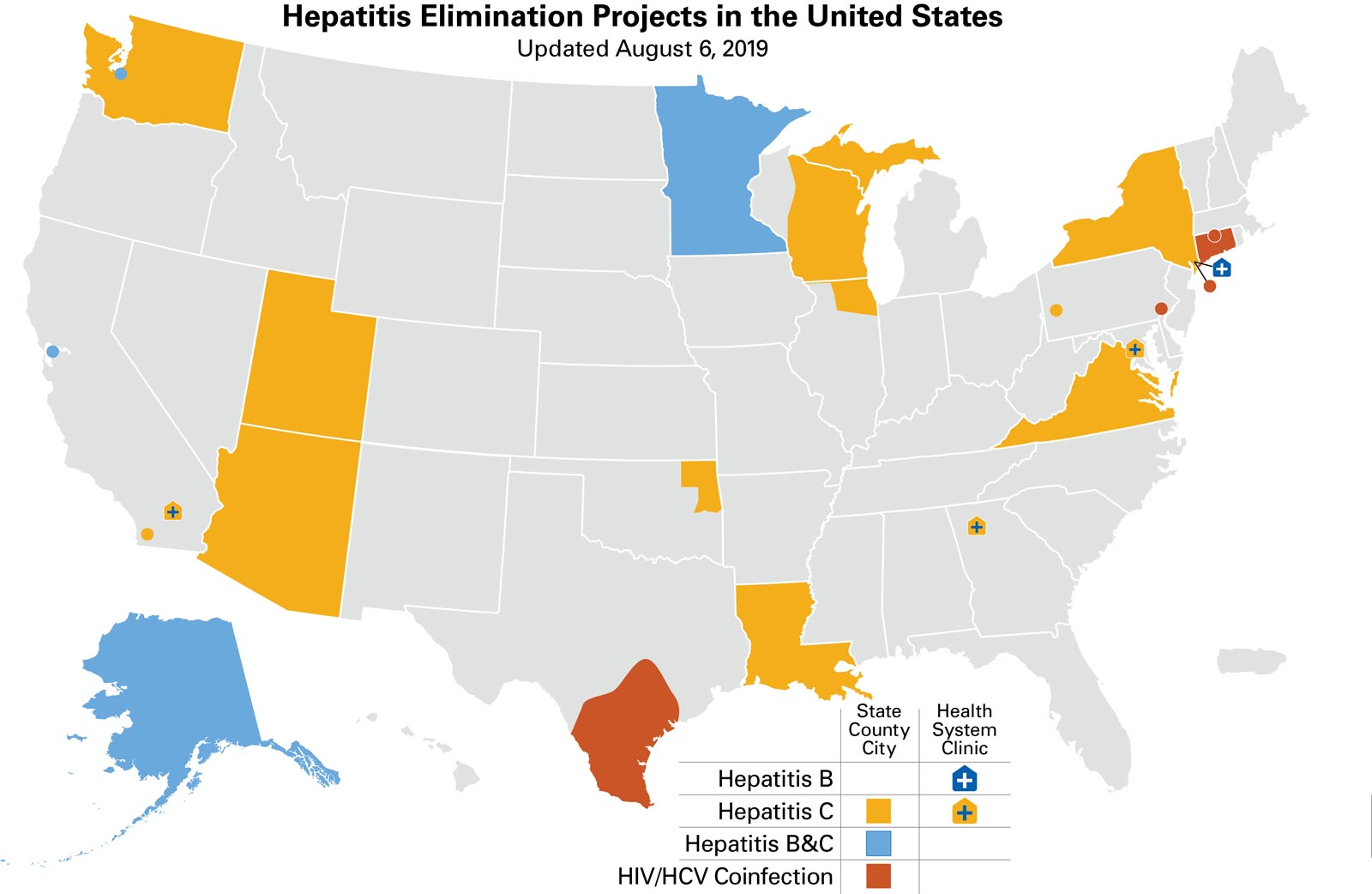 This resource will be updated regularly. If you are part of an established elimination effort and would like to be added to this map, please email Corinna.Dan@hhs.gov with a description of your project and a link to online information.
Washington, DC
MedStar Health, HCV Testing and Linkage to Care Elimination Program
In 2015, the MedStar-wide hepatitis C testing and linkage to care program was developed at the regional healthcare system in greater Washington DC. The program was created to identify and assist patients in primary care that had not been tested, linked, or had been lost, link to hepatitis C care.
Atlanta, GA
Grady Liver Clinic
Founded in 2002, the Grady Liver Clinic is based at Grady Health System, a safety net health system in Atlanta, GA. The Grady Liver Clinic is a unique model for hepatitis C care in that it is run and staffed by general internists with expertise in hepatitis C treatment. It uses a multidisciplinary team approach including physicians, clinical pharmacists, nurses and patient navigators, the Grady Liver Clinic improves access to hepatitis C care for patients with health care disparities. The clinic has been nationally recognized for implementing large scale hepatitis C screening and linkage to care as well as treatment programs. The clinic is leading an HCV elimination effort at Grady Health System using a combined approach including widespread screening, linkage to care, antiviral treatment and population management.       
https://npin.cdc.gov/featured-partner/grady-liver-clinic
New York, NY
Charles B. Wang Community Health Center: The Hep B Moms Program & "The Test" Hep B Community Education Initiative
In 2010, the Charles B. Wang Community Health Center created the Hep B Moms Program to prevent transmission of hepatitis B (HBV) from mother-to-child by providing comprehensive multidisciplinary care to mothers with chronic HBV and their infants. All pregnant women with chronic HBV are evaluated, educated and linked to HBV care with a primary care provider or specialist to ensure appropriate HBV care while infants are followed until completion of HBV vaccinations and post-vaccination serologic testing.
To raise community awareness about getting tested for HBV, the Health Center partnered with renowned NYC-based comic book writer, Amy Chu, and Chinatown-raised illustrator, Louie Chin, to create, "The Test", a comic book about a nurse practitioner who encourages members of her community to get tested for HBV. This engaging book helps readers understand the importance of HBV screening and encourages them to take action to get family and community members tested.
http://www.cbwchc.org/HepatitisB.asp
http://www.cbwchc.org/HEMaterial/Docs/Hep%20B%20Roadmap_English_Web-2016.pdf
Alaska
Liver Disease and Hepatitis Program, Alaska Native Tribal Health Consortium (ANTHC)
ANTHC has met the WHO elimination goals among Alaska Natives (AN) for hepatitis A and B. For hepatitis C, plans include expansion of screening and treatment in the homeless clinic, behavioral health, opioid substitution, and detox programs; work with prisons to treat Alaska Natives who are incarcerated; expand screening to include pregnant women and emergency departments; and work with community health practitioners to screen baby boomers and people who inject drugs living in isolated communities in Alaska so they can be treated in their community.
https://anthc.org/what-we-do/clinical-and-research-services/hep/
Arizona
Southwest Recovery Alliance
The Southwest Recovery Alliance is a regional grassroots organization dedicated to the implementation of harm reduction interventions, public health strategies, drug policy transformation, and justice reform in Arizona and throughout the Southwest.
The Southwest Recovery Alliance focuses on building alliances that amplify the voices of people living with Hepatitis C, impacting statewide awareness on HCV prevention and elimination, navigating people to HCV treatment, decreasing barriers to HCV treatment, and maintaining and expanding our harm reduction education campaigns and direct services throughout the region.
http://southwestrecoveryalliance.org/
California
SAN DIEGO
American Liver Foundation, Pacific Coast Division
In November 2018, the San Diego County Board of Supervisors voted to authorize the County Health and Human Services Agency to embark on a public/private partnership to develop a roadmap to eliminate hepatitis C by 2030. The American Liver Foundation Pacific Coast Division is serving as the facilitating organization.
https://www.countynewscenter.com/public-private-partnership-begins-work-to-end-hepatitis-c/
Scott Suckow email: ssuckow@liverfoundation.org
SAN FRANCISCO
SF Hep B Free
Founded in 2007, SF Hep B Free - Bay Area is an organization dedicated to raising awareness of hepatitis B and liver cancer in the San Francisco Bay Area. It does so by creating public and healthcare provider awareness about the importance of testing and vaccinating those at risk for hepatitis B, promoting routine hepatitis B testing and vaccination for those at risk, and advocating and providing accessible, affordable, and culturally and linguistically appropriate linkages to care and treatment for individuals chronically infected with hepatitis B. SF Hep B Free -Bay Area's goal is to make the San Francisco Bay Area free of the harmful health effects and tragic disease caused by hepatitis B. By bringing together local stakeholders including government, healthcare, business, media and advocacy groups, SF Hep B Free – Bay Area has created a model for effective grassroots education, increased community screening and compelling health advocacy.
End Hep C San Francisco
Established in 2016, End Hep C SF is a multi-sector independent consortium operating under the principles of collective impact. End Hep C SF consists of approximately 150 members representing 34 local partner public and private agencies, all working together to realize the vision of eliminating hepatitis C as a public health threat in San Francisco. End Hep C SF emphasizes collective decision-making, community leadership, data sharing, and ongoing evaluation and as key components of the initiative's process.
Louisiana
Hepatitis C Elimination Program
The Louisiana Department of Health is pursuing hepatitis C elimination through the combination of a first-in-nation Subscription Model for hepatitis C treatment and a public health-based community-to-clinic care support model. Through these strategies, LDH plans to treat over 10,000 Medicaid and incarcerated individuals by the end of 2020, with the goal of eliminating hepatitis C as a public health threat statewide. The Subscription Model provides unrestricted access to treatment through a multi-strategy Elimination Program aimed at identifying Louisianans with hepatitis C infection and linking them to providers able to guide them successfully through treatment.
The Hepatitis C Elimination Program will:
Expand provider capacity to treat hepatitis C
Educate public on availability of cure and mobilize priority populations for screenings
Expand HCV screening and expedited linkage to HCV cure
Strengthen HCV surveillance to link persons previously diagnosed to treatment
Implement harm reduction and complementary treatment strategies
Extend elimination efforts to all populations within the state
Minnesota
Planning for State Viral Hepatitis Elimination Programs
The Minnesota Department of Health- Hepatitis Unit is convening local public health, community leaders, healthcare providers, individuals affected by viral hepatitis and other stakeholders to review current hepatitis B and hepatitis C epidemiological trends in Minnesota to identify data gaps. The Hepatitis Unit will then work with stakeholders to develop hepatitis B and C epidemiological profiles to minimize the local hepatitis disease burden and work toward elimination.
https://www.health.state.mn.us/hepatitis
New York
New York State (NYS) Hepatitis C Elimination Task Force
In March 2018, New York State (NYS) made a commitment to eliminate hepatitis C as a public health problem by allocating $5 million to implement new programs and activities and establishing a task force.  The NYS Hepatitis C Elimination Task Force will provide input to the NYS Department of Health on the hepatitis C elimination plan. Task Force members include key stakeholders representing government, private industry, consumers, and community leaders who are hepatitis C experts.  The Task Force is supported by five workgroups:  1) Hepatitis C prevention; 2) Hepatitis C care and treatment access; 3) Hepatitis C testing and linkage to care; 4) Surveillance, data and metrics; and 5) Social determinants.  The additional funding will support: patient navigation programs; innovative care models to address barriers people who inject drugs face when accessing hepatitis C treatment; reentry and peer programs for incarcerated individuals; surveillance infrastructure; and a multi-media campaign.  https://www.health.ny.gov/diseases/communicable/hepatitis/hepatitis_c/elimination.htm
Oklahoma
CHEROKEE NATION
Hepatitis C in Native Oklahoma: Optimizing Care and Setting a Path Towards Elimination of Disease and Disparity
The goal of the Cherokee Nation hepatitis C (HCV) initiative is to eliminate HCV from the Cherokee Nation Health Services (CNHS) and improve the health of American Indians in the CNHS by developing a community-based program to test, treat, and cure HCV, coupled with public awareness efforts to reduce new HCV infections. The program is based on universal screening, increasing the number of primary care providers who are managing individual with HCV by utilizing projectECHO, and expansion of harm reduction. The project will also include data collection and analysis to help understand how many people may have HCV, determine risk factors for acquiring HCV, and provide evidence to inform future efforts to eliminate HCV.
https://www.hhs.gov/hepatitis/blog/2016/04/08/setting-path-towards-hcv-elimination-cherokee-nation-government-academia-and-pharma-collaboration/index.html
Pennsylvania
ALLEGHENY COUNTY
Hep C Free Allegheny
Formed in 2018, "Hep C Free Allegheny" is a campaign spearheaded by several major health and social service agencies in Allegheny County, Pennsylvania. Its vision is a county in which coordinated efforts result in the prevention of new hepatitis C infections, timely identification of those already infected with subsequent linkage to treatment, and the elimination of hepatitis C-related health inequities. Reducing the stigma that is sometimes associated with hepatitis C infection is an important component of these efforts. Hep C Free Allegheny is currently guided by a Steering Committee and four workgroups.
https://www.alleghenycounty.us/Health-Department/Resources/Data-and-Reporting/Infectious-Disease-Epidemiology/Hepatitis-C.aspx
Utah
Utah Department of Health
This year (2019), the Utah Department of Health (UDOH) is in the initial stages of hepatitis elimination planning and was recently awarded an ASTHO grant to begin work on these activities. Current UDOH elimination activities include working with the Center for Disease Analysis Foundation (CDAF) to develop a Utah-specific disease progression model for hepatitis C, participating in a regional meeting to begin hepatitis elimination planning, and participating in monthly ASTHO peer-to-peer learning opportunities for hepatitis elimination
Virginia
Collaborative care model for HCV micro-elimination in rural Appalachia
The University of Virginia (UVA) and Virginia Department of Health (VDH) are working together in an innovative partnership to expand HCV treatment for rural populations across Virginia using a telehealth and provider education model (HEPC). The HEPC Program was established in far Southwest Virginia with a focus on regional micro elimination, and, recognizing the connection between opioid use and hepatitis C transmission, prioritizing the care of those in treatment for opioid use disorder or actively using drugs.  Patients are linked to office based opioid treatment programs and harm reduction services as needed. The HEPC Program continues to grow to expand access throughout the state. Tmk2s@virginia.edu
Washington
Hep C Free Elimination Plan
The Washington State Department of Health (DOH) has convened the Hep C Free Washington coordinating committee and three topic-specific work groups, Data & Strategic Information, Community-Based Responses & Interventions, and Clinical Strategies, in order to develop a plan to eliminate the public health threat of hepatitis C in Washington State by 2030. As part of that plan, the Department of Health is working with partners to bolster efforts to ensure those living with hepatitis C know their status and are connected to care and the cure, and that those at risk have access to preventive services. Complementary to the elimination plan development, Washington State's Health Care Authority (HCA) is leading a first-in-nation comprehensive procurement of hepatitis C medications purchased by state agencies (including Medicaid, the Department of Corrections, and other state agencies) to get the best prices from manufacturers and ensure that curative treatment is more readily available to all people living with hepatitis C in Washington State.
https://www.doh.wa.gov/YouandYourFamily/IllnessandDisease/Hepatitis/HepatitisC/EliminatingHepatitisC
TACOMA
Tacoma-Pierce County Health Department
Tacoma-Pierce County Health Department (TPCHD) takes a department-wide approach to hepatitis B and C (HBV & HCV). Coordinated case identification occurs within multiple programs: Refugee Health, STD/HIV, Methadone Treatment and Tuberculosis as well as the Dave Purchase Project (a community-based syringe exchange).
In 2018 the Viral Hepatitis program added to existing perinatal hepatitis B work by creating a perinatal hepatitis C program. The immediate goal of this program is to establish a routine RNA test for babies exposed in-utero to HCV, especially since current data show that most exposed babies remain untested. The long-term goal is to decrease the percent of women actively infected with HCV during pregnancy. This will be achieved by:
Recommending universal HCV screening for pregnant women.
Increasing awareness of perinatal transmission among providers.
Encouraging HCV treatment for women who are not pregnant.
A variety of tools have been created for providers to use with patients.
https://www.tpchd.org/healthy-people/diseases/hepatitis/hepatitis-information-for-providers/perinatal-resources
Midwest Regional
Veterans Integrated Service Network (VISN) 12
VISN 12 has worked with several community harm reduction centers in the Danville and Chicago areas to improve education, knowledge and linkage to care for services to veterans and their partners.  The organization collaborated across different agencies including the Illinois Department of Health and the American Liver Foundation (Great Lakes Division). Providers utilize a national electronic tool (developed by VISN 12 in collaboration with several other networks) to help identify high risk patients for HCV screening as well as patients with chronic HCV.  The network of infectious disease, liver providers and primary care providers communicate on a frequent basis to re-engage patients for a variety of services in order to educate, stabilize and offer curative regimens. VISN 12 includes portions of Wisconsin, Michigan, Illinois, and Indiana.
ATTC Network Coordinating Office, HCV Current Initiative
The Addiction Technology Transfer Center (ATTC) Network Coordinating Office is national in scope and works closely with the network of Regional ATTCs to develop and cross promote training resources. The ATTCs established a hepatitis C initiative, HCV Current, to increase knowledge of HCV among medical and behavioral health professionals to address hepatitis C increases among people with mental health and substance use disorders which is a critical aspect of elimination in the United States.
https://attcnetwork.org/centers/global-attc/hcv-current-initiative-0
Curing Hepatitis C among HIV/HCV Coinfected People of Color
This multi-pronged initiative supports the expansion of Hepatitis C (HCV) prevention, testing, care, and treatment capacity, the improvement of linkage and retention to HCV care, and coordination with SAMHSA-funded substance use disorder (SUD) treatment providers to deliver behavioral health and SUD treatment support to achieve treatment completion and prevent HCV infection and re-infection. Recipients will also enhance their health department surveillance systems to increase their capacity to monitor acute and chronic infections of HIV and HCV.
University of Texas Health Science Center at San Antonio (location: South Texas)
Yale University (location: Connecticut)
https://aidsetc.org/aetc-program/special-projects-national-significance-models-care
Department of Veterans Affairs (VA)
The Department of Veterans Affairs (VA) leads the country in hepatitis C screening, testing, treatment, research and prevention. As of March 2019, VA has started nearly 120,000 eligible Veterans on treatment.
Help-4-Hep
Help-4-Hep is a non-profit, peer-counselor, nation-wide helpline. Anyone can call with questions about hepatitis C or to get referrals to a doctor or clinics that test, treat and managing hepatitis C. Resources for financial assistance to help pay for treatment are also available. Callers are offered an opt-in service for follow-up assistance.  I.E.; a counselor will call back at a designated time to help guide the caller through the continuum of care. The phone call, support and information are all provided free of charge.
Hep B United
Hep B United is a national coalition co-chaired by the Hepatitis B Foundation and the Association of Asian Pacific Community Health Organizations supporting local hepatitis B elimination efforts in the United States. Comprised of more than 40 national organizations and local hepatitis B community coalitions across 20 states, Hep B United is dedicated to reducing hepatitis B health disparities by increasing awareness, screening, vaccination, and linkage to care for high-risk communities. Hep B United network activities include resource-sharing, training seminars, annual national hepatitis B summits, the first national community-based hepatitis B strategic plan, a hepatitis B storytelling initiative, technical assistance, peer mentoring, fostering hepatitis B data collection and analysis, and partnering with the CDC to co-brand and launch "Know Hepatitis B" campaign. Hep B United partners screen 20,000 - 40,000 people annually for hepatitis B infection and since 2013, conducted over 70,000 education sessions.
The Indian Health Service (IHS)
The National Viral Hepatitis Action Plan identifies American Indians and Alaska Natives as a high priority population. Among American Indian and Alaska Native people, HCV related mortality remains more than double the national rate.
The Indian Health Service (IHS) could eliminate HCV by the year 2025 by providing treatment to 11,000 patients per year over the next four years. To reach this lofty goal, the IHS National HCV Workgroup recommended universal HCV screening, and all IHS direct care facilities are establishing and implementing universal HCV screening and treatment protocols in a strategic manner. In addition, the IHS recently added three HCV Direct Acting Antivirals to its National Core Formulary.
Jurisdictional Approach to Curing Hepatitis C among HIV/HCV Coinfected People of Color
This initiative supports jurisdictions to increase jurisdiction-level capacity to provide comprehensive screening, care, and treatment for hepatitis C (HCV) among HIV/HCV coinfected RWHAP clients and thus, increase numbers of HIV/HCV coinfected people who are diagnosed, treated, and cured of HCV infection. The ultimate goal of the initiative is to create comprehensive HCV screening, care and treatment systems leading to demonstrable improvements in HCV care outcomes among HIV coinfected people. The funded programs are:
City of Hartford, CT
City of New York, NY
City of Philadelphia, PA
Louisiana Department of Health
North Carolina Department of Health and Human Services
NASTAD
Content created by Office of Infectious Disease and HIV/AIDS Policy (OIDP)