School Breakfast Program
Energize your day with school breakfast!
Healthy students are better students and a nutritious breakfast and learning go hand-in-hand. Studies show that students who eat breakfast benefit both nutritionally and academically. Children who eat breakfast regularly consume more of the nutrients they need to thrive physically and mentally. Students who eat breakfast tend to perform better in the classroom with better test scores, behavior and attendance. The School Breakfast Program now offers healthier meals to help students energize and excel throughout the school day.
Stats & Facts
The School Breakfast Program is currently available in 90,000 schools and institutions across the country.
Public and private non-profit schools and institutions are eligible to participate in the School Breakfast Program.
On average, 13.1 million children participate in the School Breakfast Program on a daily basis—that translates into over 2 billion school breakfasts served every year!
The School Breakfast Program is a healthy way for students to energize their day. Updated breakfast standards ensure that schools provide students with nutritious choices including more fruits and vegetables, low fat or fat free milk, and whole grain-rich foods.
The School Breakfast Program reaches students in a variety of ways. Breakfast can be served in the cafeteria, in classrooms, or from carts located anywhere throughout the school, allowing kids to grab their breakfast and go.
84% of students who participate in the School Breakfast Program receive their meal for free or at a reduced price—some schools and institutions serve universal free breakfast for all students.
The School Breakfast Program is growing quickly—total participation increased by 16% between fiscal year 2009 and fiscal year 2012.
Roughly 27% of students enrolled in an institution with the School Breakfast Program currently participate—we must continue to work hard to increase this number!
Resources
Source for Facts & Stats: United States Department of Agriculture, Food and Nutrition Service: http://www.fns.usda.gov/pd/cnpmain.htm
#FitTip

Schedule physical activity like you schedule appointments. Planning increases your success.

Take advantage of daily deal websites to save on your favorite workout classes/memberships.

Add variety to water with refreshing additions such as lemons, limes, and/or strawberries.

Having fun while active is the key! Find activities that you enjoy & include friends/family.

If you haven't been active in a while, start small & build up. Some is better than none!

Use commercials for activity breaks. Squats and stretches are quick, excellent choices.

Skip adding salt when cooking; instead use herbs and spices to add flavor.

Teach kids the difference between everyday snacks (fruits/veggies) & occasional sweet treats.

Mix veggies into your go-to dishes. Try spinach with pasta or peppers in tacos.

Come together as a family for meals. Spend time with the kids while modeling healthy eating.

Fitness is free—No equipment needed to walk, dance, hike & play. Just get moving & have fun!

Don't stress over a missed workout or sweet treat. Refocus and make the next choice healthy.

Pack your workout clothes at night before bed. You'll be prepared to be active the next day.

Find small activities to add to your work day like a lunch time walk or using the stairs.

Replace a coffee break with an outdoor walk—or take the coffee with you on your walk.

Your health journey is uniquely yours. Don't compare—strive to be your best self & enjoy!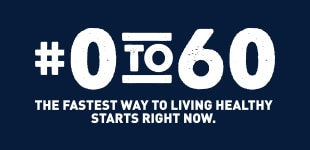 Content created by President's Council on Fitness, Sports & Nutrition