Celebrate the Season with Winter Sports
By:
President's Council on Sports, Fitness & Nutrition (PCSFN)
Summary:
PCSFN explores winter sports – both those you know and those you may not!
By: Shauna Rohbock, PCSFN Council Member and Olympic Silver Medalist in Bobsled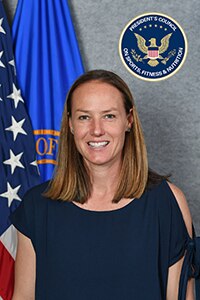 Regular physical activity can improve quality of life. You feel and function better when you're more active! Some of these benefits can be felt directly following the activity, and others are gained with more regular activity over time. The updated Physical Activity Guidelines for Americans recommends 150 – 300 minutes of moderate physical activity each week for adults, and 60 minutes of moderate-to-vigorous activity daily for children and youth. Participating in sports is a great way to get active and meet the Guidelines.
Finding ways to keep your spirits up can be especially important in the colder months when many people experience the winter blues. Consider checking out some of these sports this winter:
If winter sports aren't your thing there are plenty of ways to be active this winter. Remember that snowball fights, shoveling snow, and running/walking in the snow (try snowshoes for something new), all get the heart beating faster than normal. Like all physical activity, "start low and go slow" and choose activities that are appropriate for your level of fitness.
It's important to prepare for safe activity outdoors in winter weather; be sure to plan ahead and consider ways to avoid falls, hypothermia, and frostbite. If it's unsafe to get active outdoors - or if you prefer indoor activities - consider options like mall walking, water-based exercise at an indoor swimming pool, or getting the kids active in the house.