A New Spin On Your New Year's Resolution
By:
President's Council on Sports, Fitness & Nutrition (PCSFN)
Summary:
Tips on how to start the New Year off right and keep your resolutions going all year long.
Although New Year's Day has come and gone, it is still not too late to start on your resolutions! If you're like many other Americans, you may be thinking of trying to be more physically active, eat healthier, or lose weight in the coming year. While these are great resolutions, consider the following tips for putting a fresh spin on your health related goals for 2018.
INSTEAD OF: making a general goal such as "I want to be more physically active this year"…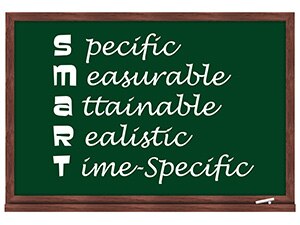 TRY: using the SMART method to set a goal that is focused and measurable.
SMART, which stands for Specific, Measurable, Attainable, Realistic, and Time-Specific, guides people through a series of steps to create a goal that is thoughtful of potential barriers and is focused on realistic individual outcomes. For example, instead of setting a general goal to become more physically active, a SMART goal would specify, "In the next three months, I'd like to log 10,000 steps or more at least four days per week." For a breakdown of each letter and more examples of SMART objectives and goals, click here.
INSTEAD OF: looking at the big picture when making your resolution…
TRY: setting mini-goals to keep you motivated.
Setting and achieving mini goals keeps you engaged and focused on your SMART goal as you work your way up to your larger goal. Building on the previous example, small goals may include setting aside 30 minutes, three days a week to walk outside or on a treadmill at the gym. Once this mini goal has been reached, you can expand your bouts of physical activity to four days per week, or you could extend the length of your workouts from 30 to 40 minutes.
INSTEAD OF: exercising specifically for weight loss or forcing yourself to log long hours at the gym…
TRY: exploring new activities to make physical activity fun!
If you do not like walking on a treadmill, don't do it! Try something new like swimming laps at the pool, taking a ballroom dancing class, or snowshoeing. Working out with a buddy, or jamming to your favorite music playlist can also make the experience something you look forward to and enjoy!
INSTEAD OF: focusing only on physical activity and nutrition related resolutions…
TRY: looking at other health and wellness behaviors, such as sleep or stress management.
There is more to a healthy lifestyle than physical activity and healthy eating. Getting enough rest each night and properly managing stress are key to individual success.  Lack of sleep and excessive stress can impact your ability to focus on your physical and nutritional health. The impact of these two behaviors can affect your clarity, attention span, and energy level throughout the day.
The most important things to remember about making New Year's resolutions are to set goals that are realistic and achievable, that will work for your schedule, and that are enjoyable so you will want to keep them! 
For more information on physical activity and nutrition recommendations that you can use when setting your goals, visit the following links:
Information on healthy eating can be accessed on the Department of Agriculture's site, choosemyplate.gov, and in the 2015-2020 Dietary Guidelines for Americans.