#MoveInMay During National Physical Fitness & Sports Month
By:
Herschel Walker
, PCSFN Co-Chair
Summary:
May is National Physical Fitness & Sports Month. Hear from PCSFN Co-Chair Herschel Walker about the important role sports and fitness have played in his life.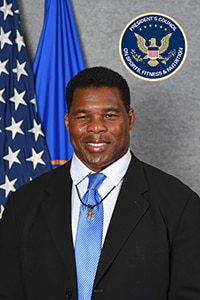 Each May, we celebrate National Physical Fitness and Sports Month.  As co-chair of the President's Council on Sports, Fitness & Nutrition, I want to share how sports and fitness changed my life, and why I'm so passionate about helping others transform their lives, too!
I was born in a small, southern town called Wrightsville, Georgia, where not much ever happens. As a little boy, I had a speech impediment along with being "big boned" (also known as "fat" where I grew up). At a certain point in my life, things began to change. I started reading more books and began working out. I was fortunate that both my parents were positive and were always encouraging and cheering me on. I also had a great coach who took the time to work with me and gave me the confidence to never give up.
With the support of my parents and coaches, I began to excel in academics and athletics. Through the success I had in Track and Football, I was able to attend the University of Georgia. I then had the opportunity to play professional football, participate in Mixed Martial Arts (MMA), dance with the Fort Worth Ballet, and even compete in the 1992 Winter Olympics as part of the U.S. Bobsled Team.
As a true advocate of sports and fitness, I have been coming to Washington, DC, for over 18 years to meet with members of Congress to promote healthy, active lifestyles for children and adults across America. With my help, our efforts have led to significant funding for Physical Education in our nation's schools. I also regularly speak to children about the importance of sports and active lifestyles, as well as good nutrition choices. I remain dedicated to the development of our youth, making time for fitness camps, and creating community playgrounds – especially in underserved communities. I am also a big supporter of our military, and make time monthly to meet with our troops and visit the wounded.
I was honored and overjoyed when President Trump appointed me as one of the Co-chairs of the President's Council on Sports, Fitness & Nutrition! As a young man from humble beginnings from Georgia, it is truly an honor to be serving with so many incredible athletes and talented people who share my love for serving the American people. I am Co-chair of the Council alongside Misty May-Treanor, a three-time gold medalist in beach volleyball (a true hero to so many) and Mariano Rivera, Major League Baseball Hall of Famer. I am living proof for kids from small towns and rural areas across America that they too can be like the members of the President's Council.
My biggest goal for our Council is to help Americans recognize not just the importance of youth sports, but to also recognize the benefits of physical activity and nutritious diet choices. I want everyone to know it's never too early or too late in life to start leading a healthy lifestyle. I also want kids to understand that success is not just about winning, but it's about never giving up and always putting forth your best effort in everything you do throughout your life.
Working with the Council, I want to find ways to stop the decline of youth sports participation and make it affordable and accessible to all children. My commitment to the Council is to continue to come up with innovative and creative ways to show the positive effects of physical activity on our children's academic performance, health, and social well-being.
Since I was twelve years old, my lifestyle has been about staying healthy and fit. I am excited to be working with the Secretary of Health and Human Services and partners at the local, state, and national levels to develop a National Youth Sports Strategy to expand children's participation in youth sports. I want to thank President Trump for my appointment, and for giving me the opportunity to help all Americans—especially young people—be active and healthy!