Celebrating Girls and Women in Sports
By:
Misty May-Treanor
, PCSFN Co-Chair
Summary:
March 8, 2019, celebrates International Women's Day. This year's theme is #BalanceforBetter to uplift the importance of gender balance and celebrate the achievements of women. In this blog, PCSFN Co-Chair Misty May-Treanor discusses the importance of girls participation in sports, and the impact sport has had on her.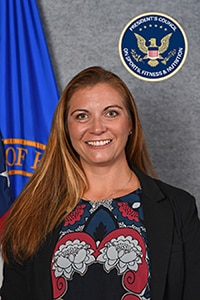 Happy International Women's Day! As implied by this year's International Women's Day Theme, #BalanceforBetter, this day is for uplifting the importance of gender balance and celebrating the achievements of women. A world with equitable opportunities for everyone is a better world.
As a Co-chair of the President's Council on Sports, Fitness & Nutrition, I view youth sports as a valuable avenue to empower girls and level the playing field in sports and life. The women's movement in sports has come a long way and I am super proud of all those that helped bring it to the forefront.  I remember my grandmother telling me stories about when she grew up, and even in high school and college she was not able to play sports and was discouraged from doing so.  Today, it's hard to fathom those times because I see girls playing in gyms, pools, and fields everywhere.
The number of young girls playing has grown so much.  I love seeing so many sports growing in popularity among women, especially the sport of volleyball. My excitement about seeing more girls in sports is bigger than my personal love of sports. I know being involved in sports can positively impact your whole life. I believe sports helps us to not only stay healthy, but improves different aspects of life that are important: communication, dedication, teamwork, and most of all confidence.
I can tell you first hand that sports helped me in so many ways.  In eighth grade, my family moved and I needed to make new friends.  Participating in sports helped make the transition smoother.  Through involvement with my middle school volleyball, basketball, and track teams, I found common ground within my new surroundings and developed friendships with my teammates.  Many of my longtime friends I met by either playing alongside them or against them, but sports was the catalyst.
Organizations such as the Women's Sports Foundation have done a tremendous job in making sure that no girl is left behind and that females playing various sports are continually recognized. They have been a huge force in narrowing the gap in opportunities for girls.  But there is still much more work to be done to ensure that girls have equal opportunities to play.  I feel, as a retired pro-athlete, Olympian, coach, Council Co-chair, and mother, it is my duty to continue to empower young female athletes to become the best version of themselves, to let them know that the sky is the limit, and to keep creating goals and see them through. 
Thank you to the women that carried the torch before me and helped pave the way for new generations.  I am so fortunate to have had the ability to make an impact and I hope that those next in line will commit to carrying it on.  And thank you to all those that support our young athletes and empower them to become great.  Keep it up!