Physical Activity Initiative
We all want children to grow up healthy and with the knowledge and skills needed to succeed in life. A big part of being healthy for children is getting the recommended level of physical activity—at least 60 minutes daily. Studies show that physical activity not only helps kids stay active and healthy, but it can enhance important skills like concentration and problem solving, which can improve academic performance. Learn more about how you can make sure our children are on the path to an active and healthy life.
Public Service Announcements
The President's Council launched a physical activity outreach initiative highlighting the physical and cognitive benefits of regular activity for youth. The initiative includes the following national public service announcements: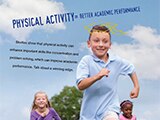 Physical Activity = Better Academic Performance
This print PSA features youth that highlights the benefits of physical activity for children.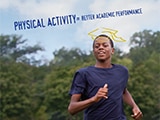 Physical Activity = Better Academic Performance
This print PSA features an adolescent boy that highlights the benefits of physical activity for children.
Check out the President's Council's ideas on ways to be active to get your kids moving today.
The Benefits of Physical Activity
Physical activity has many health benefits. It can help children maintain a healthy weight and build healthy bones, muscles, and joints. It also puts them on the path to a healthier lifestyle, which is important, considering that active children are more likely to become active and healthy adults. Compared with those who are not active, physically active youth have higher levels of aerobic fitness, stronger muscles, and stronger bones.
In addition to the health benefits, physical activity has a strong impact on academic performance and social skills. Research shows that 60 minutes or more of daily physical activity can help children in the following ways:
Improved test scores, grades, and time management skills
Boosted concentration, memory and classroom behavior
Increased self-confidence and self-esteem
Strengthened social and cooperative skills, such as teamwork and problem solving
Reduced anxiety and stress
Studies show that physically active students score higher on standardized tests and have better grades, particularly in math, English and reading. Recess and classroom activity breaks show positive association with indicators of cognitive skills, attitudes, and academic behavior and achievement.1 When children are active their blood flow increases, improving memory and concentration, which are essential in the classroom, and hormones are released that can improve their mood and reduce anxiety and stress.2
Learn more about the importance of being active.
Physical Activity Facts
By encouraging physical activity, we empower our children to be healthy.
The U.S. Department of Health and Human Services recommends that young people aged 6–17 years participate in at least 60 minutes of physical activity daily.3
Only one in three children achieves the minimum amount of physical activity they need each day.4
Physical activity is particularly important among children with physical disabilities, as 22.5% of children with disabilities are obese compared to 16% of children without disabilities.
In 2011, 29% of high school students surveyed had participated in at least 60 minutes per day of physical activity on all 7 days before the survey.5
Children spend an average of more than seven-and-a-half hours a day in front of a screen, inside watching TV, playing video games, or surfing the Web.6
Participation in physical activity declines as young people age.7
Resources
Many organizations work to ensure that our nation's children have daily physical activity. Visit their websites for additional information and resources.
Active Schools : A comprehensive program that empowers school champions (P.E. teachers, classroom teachers, principals, administrators, and parents) to create active environments that enable all students to get moving and reach their full potential.
Making Health Easier : Making Health Easier is an interactive social networking site where Centers for Disease Control and Prevention-funded communities and their partners can share stories and resources around obesity and tobacco issues.
Shape America :  SHAPE America is the largest organization supporting and assisting professionals involved in PE, recreation, fitness, sport and coaching, dance, health education and promotion, and all specialties related to achieving a healthy and active lifestyle.
---
References
To return to the page content, select the respective footnote number.
#FitTip

Fitness is free—No equipment needed to walk, dance, hike & play. Just get moving & have fun!

Replace a coffee break with an outdoor walk—or take the coffee with you on your walk.
Content created by President's Council on Sports, Fitness & Nutrition