Be Active
Physical activity is an essential component of a healthy lifestyle. Getting active is easier than you may think. Find ways to add in or mix up daily activity and discover a healthier you.
#FitTip

Schedule physical activity like you schedule appointments. Planning increases your success.

Take advantage of daily deal websites to save on your favorite workout classes/memberships.

Add variety to water with refreshing additions such as lemons, limes, and/or strawberries.

Having fun while active is the key! Find activities that you enjoy & include friends/family.

If you haven't been active in a while, start small & build up. Some is better than none!

Use commercials for activity breaks. Squats and stretches are quick, excellent choices.

Skip adding salt when cooking; instead use herbs and spices to add flavor.

Teach kids the difference between everyday snacks (fruits/veggies) & occasional sweet treats.

Mix veggies into your go-to dishes. Try spinach with pasta or peppers in tacos.

Come together as a family for meals. Spend time with the kids while modeling healthy eating.

Fitness is free—No equipment needed to walk, dance, hike & play. Just get moving & have fun!

Don't stress over a missed workout or sweet treat. Refocus and make the next choice healthy.

Pack your workout clothes at night before bed. You'll be prepared to be active the next day.

Find small activities to add to your work day like a lunch time walk or using the stairs.

Replace a coffee break with an outdoor walk—or take the coffee with you on your walk.

Your health journey is uniquely yours. Don't compare—strive to be your best self & enjoy!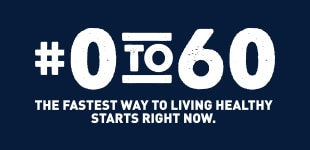 Content created by President's Council on Sports, Fitness & Nutrition