2012 Council Meeting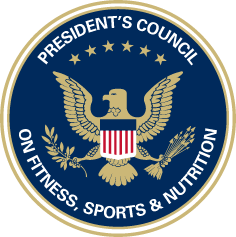 Kick-off for National Physical Fitness and Sports Month
Download 2012 Council Meeting Hourly Agenda
Download 2012 Council Meeting Agenda
Date: Tuesday, May 1, 2012
Time: 10:00am – 3:00pm
Location:
VW Theatre
Verizon Center
601 F Street, NW
Washington, D.C. 20004
(See below for transportation options)
Topic: Kick-off for National Physical Fitness and Sports Month
The President's Council on Fitness, Sports & Nutrition (PCFSN) will hold its annual meeting in the VW Theatre room of the Verizon Center in Washington, D.C. on May 1, 2012.
PCFSN will convene to inform and engage Council members on current outreach initiatives and progress towards 2012 goals, including the Joining Forces Fitness Initiative launched with Let's Move! in May, 2011. Students from the JAM School Program will conduct a Jammin' Minute activity for attendees during the afternoon session. The 2012 Lifetime Achievement Award (LAA) and Community Leadership Award winners will be announced, and the LAA recipients will be recognized during the meeting for their contributions to the advancement and promotion of physical activity, fitness, sports and nutrition on a national level. The complete agenda will be available at www.fitness.gov prior to the meeting.
All Council meetings are free and open to the public. The meeting minutes will be archived on the PCFSN website at www.fitness.gov.
Please RSVP indicating your first and last name and email address to: rsvp.fitness@hhs.gov . If you are unable to attend in person, please visit www.pcfsnmeetingwebcast.com

for a live webcast of the meeting.
Transportation
Parking: There is limited street parking surrounding the Verizon Center. We recommend taking the Washington Metropolitan Area Transit System (Metro).
By Metro, Take either the Green, Red, or Yellow Line to Gallery Place/ China Town: This station is located directly at the Verizon Center. Take the escalators to the outside exit (you will face F Street, NW). Turn left. Walk until you see the glass-front entrance of the Verizon Center that says F Street Entrance.
For more information about the DC Metro call (202) 962-1234 or visit www.wmata.com.
Content created by Office of the Assistant Secretary for Health (OASH)