Project Sandbox
Catalyzing the growth of new models of care delivery that reduce healthcare costs and provide patient-centric care.
Executive Summary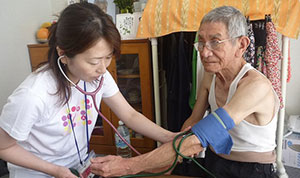 This Innovator-in-Residence project aimed at catalyzing the growth of models and instances of care delivery that had the potential to reduce healthcare costs while concurrently providing patient-centric care.
The care delivery model we chose to focus on was home-based primary care to the frail elderly – 5% of the Medicare population that drive 50% of Medicare costs, but are subjected to wrong kind of care (episodic, acute, and curative).
Over the course of the 18 months (Nov 2013 through June 2015), we were able to build collaborative relationships with key stakeholders in the industry, raise significant funding from philanthropic donors, and drive buy-in and momentum for future innovation to catalyze the growth of this model of care.
A project supported by the: HHS Innovator-in-Residence Program
Team Members
Innovator-in-Residence
Nag Murty
Milestones
September 2013: Innovator-in-Residence Project begins
June 2015: Innovator-in-Residence Project is completed
Project Sponsor
Additional Information