Electronic Tracking & Transport of the Nation's Organ Transplant System
Transforming the organ procurement and transplantation system.
Executive Summary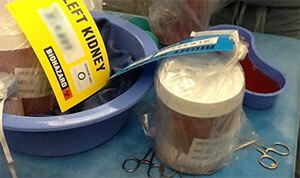 The Organ Procurement and Transplantation Network (OPTN) collects more than 8,000 organs from deceased donors each year, and more than 22,000 organ transplants are completed annually. Use of electronic information capture provides a means of improving safety by eliminating the risk of manual transcription error, and speeding up the information transfer process.
The internal HRSA team saw the potential technology could have on this process to minimize the potential for misdirection or other delays in organ transportation and reduce the chance of incorrect transplantation. An electronic organ tracking system would also have several important additional benefits, including: eliminating manual transcription errors, accelerating information transfer about the organs to key program stakeholders, and capturing extensive organ transport data and logistical information that will provide invaluable to the OPTN for optimizing organ allocation and minimizing geographic variability in organ access for people waiting for transplantation.
Using lean startup methodologies, David developed a working prototype over a four month period. The prototype, a scanner and small printer went to field testing in nine months. The prototype was tested with teams in California, Minnesota, Georgia, Maryland and Virginia in a total of 194 organ procurements and recovered 713 organs (through March 2014). After the initial field test period, David conducted interviews with participants and found significant impact, such as the average number of hand written entries went from 52 to 1 and the average visual/verbal verification went from 62 to 7. David also found that from the 199 field test surveys, 89% believe the new system is safe or safer.
A project supported by the: HHS Entrepreneur-in-Residence Program
Team Members
Entrepreneur-in-Residence
David Cartier
Internal Team
Joyce Somsak, HRSA
Richard Durbin, HRSA
Chris McLaughlin, HRSA
Milestones
September 2012: Entrepreneur-in-Residence Project begins