Cloud-Based GIS Maps Displaying Aggregate Data on Medical Malpractice
Improving medical malpractice data and access to it.
Executive Summary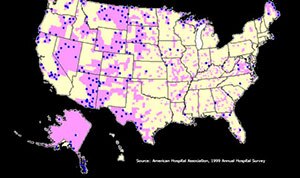 The Health Resources Services Administration (HRSA) operates the National Practitioner Data Bank (NPDB), a web-based system that implements important patient safety and anti-fraud legislation. The NPDB system maintains over 1.1 million reports of health care practitioners, providers, and suppliers with a history of malpractice, incompetence, fraud, license suspension, criminal conviction, or unprofessional conduct. Individual data reports against practitioners, providers and suppliers are kept confidential by law.  While aggregate data are currently available to researchers and other interested parties, these data are not easily digestible for non-technical users.
(HRSA) is building a Geographic Information System (GIS) application and dashboard to display data on medical malpractice and adverse actions taken against health care practitioners. The new data visualization tools will present summarized data in new and interactive ways to make this resource more accessible to a wider audience.  The ultimate goal of this project is to make NPDB trend data more accessible, open, and transparent to researchers and the general public.
Additionally, the Entrepreneur-in-Residence is partnering with the internal team to enhance the current data and recommend opportunities for process streamlining.
A project supported by: HHS Entrepreneur-in-Residence Program
Team Members
Entrepreneur-in-Residence
Krishna Malyala
Internal Team
Ernia Hughes, HRSA
Seth Marcus, HRSA
Harnam Singh, HRSA
Milestones
September 2013: Entrepreneur-in-Residence Project begins