Immunization Gateway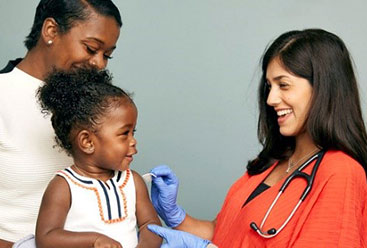 Immunization registries have historically not been available to consumers. HHS CTO is leading innovation for consumer immunization access across the country. To frame our work, we use Healthy People 2030 goals, which aim to improve immunization rates. Our Consumer Access project, led by Jim Daniel, directly relates to these goals.
The Immunization Gateway includes a portfolio of projects related to immunization information systems (IIS).  These efforts include:
Connect: Provider and Immunization Information Systems Interoperability Project
Access: Consumer Engagement for Immunization Information Systems
Share: Cross-Jurisdictional Exchange
Immunization information systems are confidential and population-based systems offering the most reliable source of aggregated vaccination information. Healthcare providers and pharmacies have been submitting vaccination data to IIS for over twenty years. There are sixty-four different IIS serving states and regions throughout the United States. These systems consolidate and deduplicate both patients and their vaccinations. In addition, IIS provide forecasting algorithms to help families stay up to date on their vaccines.
Vaccination is a proven public health success and a cost-effective strategy to protect individuals from disease. Vaccine preventable diseases can travel quickly through a community and infect large numbers of people. There are certain populations such as those with weakened or failing immune systems or serious allergies that cannot receive vaccinations. It is imperative for communities to maintain high vaccination rates to foster community immunity or "herd immunity" to protect against spreadable diseases. By consolidating vaccination information in state and regional IIS, this information may be used to identify vulnerable patients during an outbreak of vaccine-preventable infection.
Blog Posts and Ways to Learn More
Immunization Records for Healthy People
Access to Immunization Records Empowers Families In Washington to Protect Themselves From Measles Outbreak
Bridging the Divide: Office of CTO Works to Connect Immunization Data
Advancing Health Equity through Data and IT: Immunization Gateway*
* This content is in the process of Section 508 review. If you need immediate assistance accessing this content, please submit a request to idealab@hhs.gov. Content will be updated pending the outcome of the Section 508 review.
Content created by Office of the Chief Technology Officer (CTO)