Access: Consumer Engagement for Immunization Information Systems
Goal of the Consumer Engagement Initiative
The goal of the Consumer Engagement for IIS project is to increase consumer's online access to immunization records and forecasts through State and Regional IIS. Enabling online consumer access to IIS records fosters better vaccinated families and contributes to informed health decision making. Consumer online access to immunization records also reduces immunization record-related entry barriers to schools, childcare, camps, and travel.
The Consumer Engagement for IIS project is a collaborative effort between the Office of the Chief Technology Officer, the Centers for Disease Control and Prevention, Audacious Inquiry, and Scientific Technologies Corporation (STC). To enable consumer access, the project team pilots My Immunization Record (MyIR), an immunization specific portal, created by STC to allow individuals to access their immunization records and forecasts instantly online.
In the past, individuals had to call or visit their provider's office or state health department to obtain their families' immunization records. MyIR leverages the HL7 2.5.1 standard to bidirectionally query and exchange immunization records with state or regional IIS. Use of the portal requires consumers to complete a registration and identity proofing process to autonomously query the IIS for their record. The online two-factor authentication process allows consumers to register online and receive a one-time secure access code by SMS text message or autodial to validate their identity and securely access their immunization record and forecast.
Marketing and Evaluation
To support MyIR pilots, the project team implemented various marketing strategies to inform consumers that this tool is available to them. Focus group feedback informed the development of marketing materials including the content, images, and messages for posters, brochures, and mailings. As the project evolved, digital marketing activities were leveraged to reach the primary target audience, caregivers of school entrance aged children. Digital marketing activities include promotion of MyIR through paid and unpaid advertising on blogs, news sites, online parenting communities, Facebook, and Instagram. The team also implemented an earned media groundswell approach to promote the MyIR tool.  
Since the project began in 2013, over 140,000 accounts have been registered on MyIR and 58,000 families have gained access to their immunization records.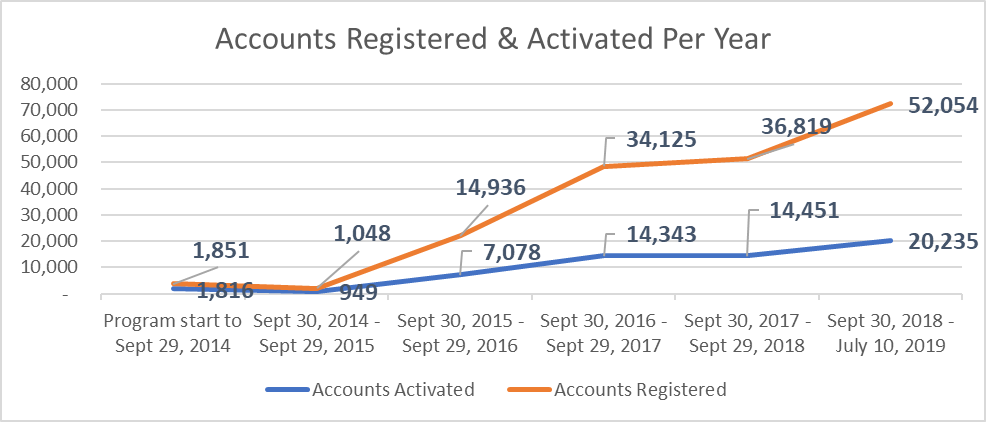 *People using assistive technology, click here
Measles Outreach
During the Winter of 2019, a measles outbreak impacted communities throughout the US. In Washington state, a MyIR pilot state, a Public Health emergency was declared as a result of the outbreak. The measles outbreak heightened the need for families to make sure they were up to date and protected from the viral outbreak. The project team worked with the state health department and HHS to make Washingtonians aware this tool is available to them and to alleviate the burden on providers and the state health department who were receiving an influx of records request.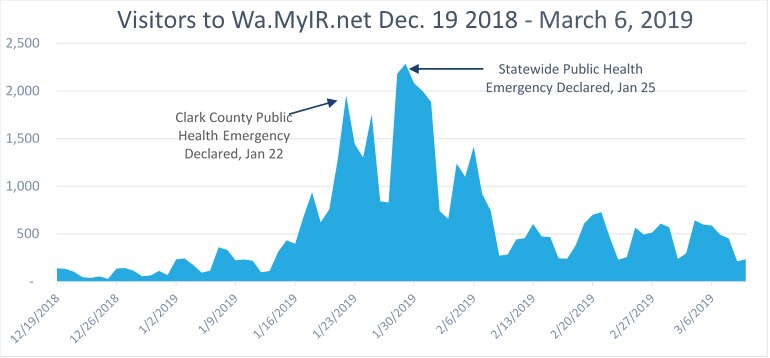 *People using assistive technology, click here
After the Clark County Health Department declared a public health emergency due to the measles outbreak, there was a significant spike in visitors to wa.myir.net seeking their immunization records to make sure their families were protected against the virus. A second spike in visitors is seen after the Washington state declared a statewide public health emergency on January 22. In January 2019, there was a 476% increase in new user accounts created in MyIR compared to December 2018 as a result of the outbreak.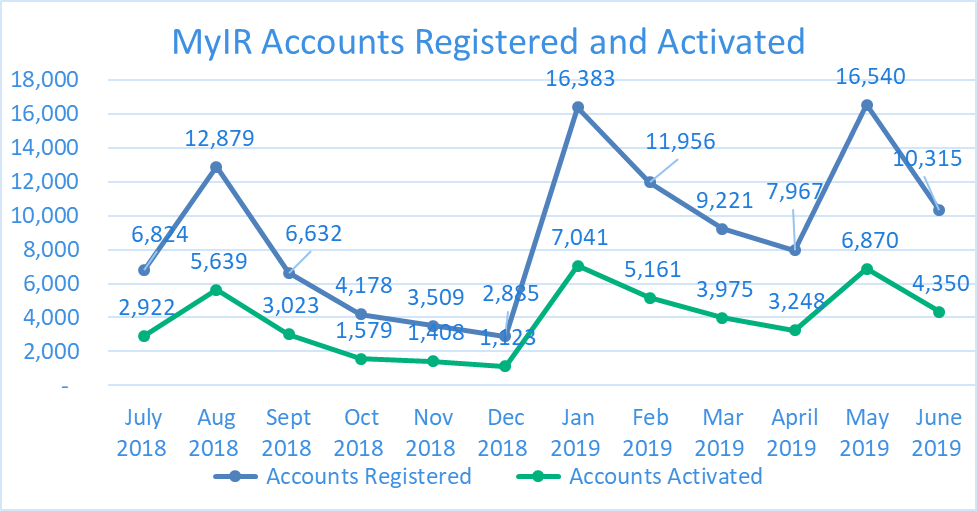 *People using assistive technology, click here
Each year, during the back to school period, there is a spike in account registrations as parents seek out their children's records for proof of vaccination. During the measles outbreak of 2019, there were additional registration spikes in both January and May which directly correlates with cases reported throughout Washington State. To date, the measles outbreak has been the largest driver of account registrations for the Consumer Engagement for IIS project.
Consumer Surveys
In addition to state key informant interviews, and evaluation of project metrics, the project team disseminates and analyzes online consumer surveys to individuals that register for MyIR.  The survey aims to measure consumer interaction, how they heard about MyIR, and how records access informs their health decisions.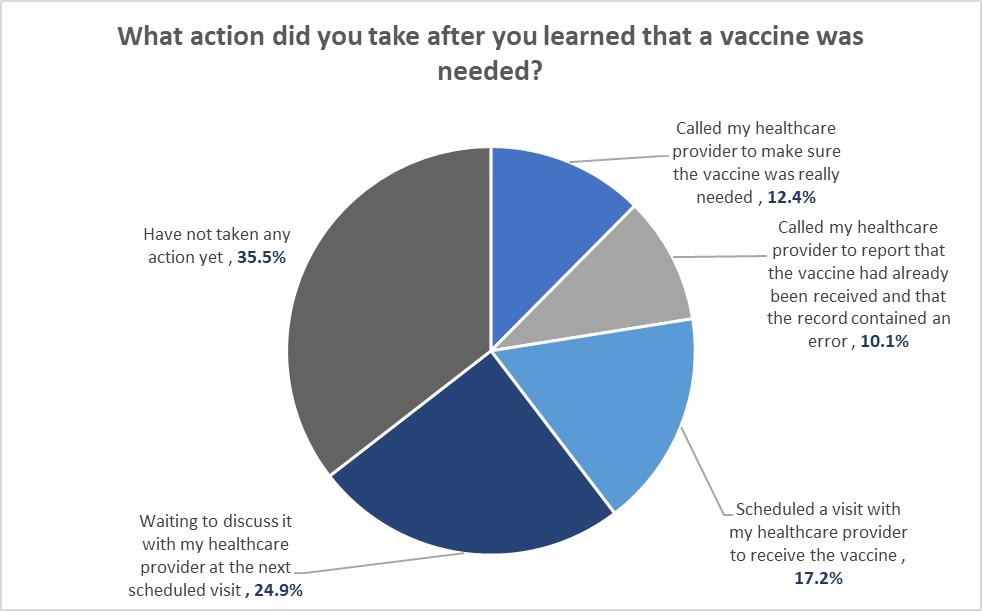 *
People using assistive technology, click here
Individuals that reported viewing their immunization records are asked whether they learned a vaccination was needed for themselves or a family member. Respondents that indicated their records showed a past-due or needed vaccination are asked what action they took. In total, 40% of users took some form of action by either scheduling an appointment with their provider, calling their provider to confirm they needed the vaccine or to report an error in their record. Of those that scheduled visits, 60% of respondents indicated that they went on to receive the needed vaccine.
Looking Ahead
More and more, consumers rely on technology for health records access and communication. To keep up with consumer expectation, the project team is seeking patient portal, electronic health record (tethered and untethered), and personal health record partners to integrate with state or regional IIS'. This integration will enable consumers to query the IIS and keep their vaccination records in a single unified place with the rest of their health records.
As a result of lessons learned through the initial phase of the Consumer Engagement for IIS project, HHS kicked off the Human Centered Design Patient Portal and IIS Connectivity Project in June 2019.  This project will inform how personal health record vendors and/or third-party applications can best collaborate with IIS to provide consumers with access to their immunization records.
Human centered design research principles will be used to streamline the process of obtaining access to immunization data for consumers. Consumer feedback will drive product designs based on expectations for the registration, authentication, and interaction process. Consumer feedback will be gathered via surveys and interviews and products will be iteratively refined and updated as feedback is received.   
Consumer input will be obtained through the following phases:
Low-Resolution Phase: An iterative approach will be taken to inform development requirements. Through seven iterations, 50 individuals will be interviewed and surveyed during a series of webinars. Participants may include but will not be limited to patients/consumer, medical professionals, public health officials, health information technology (IT) innovators/executives, and technologists. These participants will be asked to inform design and usability, identify ideal features, and help identify pain points. Participant feedback will be incorporated into the product designs in advance of the high-resolution phase.
High-Resolution Phase: For this phase, initial requirements and design documents will be shared with two personal health record vendors for integration into their products. Using a set of test users from each personal health record (PHR,) vendors will use an iterative approach with approximately three iterations to ensure design principles are implemented in their products. This phase will use a survey method as well, but will include PHR specific wireframes for review, interactive prototypes, and more in-depth questions to gather feedback from consumers.
Pilot Phase: The pilot phase will include large scale testing of the two PHR implementations with 200 users for each product. The project team will review user feedback and metrics to evaluate pain points and progress made.
Roll Out and Evaluation Phase: Informed by the pilot phase, there will be a large-scale product and integration roll-out that will align with marketing efforts that began in the low-resolution phase of the project. There will be an evaluation of the entire project, helping to inform a future phase that will leverage lessons learned from this project to integrate additional PHRs and IIS so that consumers can more broadly access their immunization records.
Partners interested in participating in the Consumer Engagement for IIS projects may reach out to James.Daniel@hhs.gov.
Content created by Office of the Chief Technology Officer (CTO)