Curriculum
Introduction to Git and fundamentals of R –1 week, 2 classes
Introduction to Git, how we will be using Git both for capstones and for class material throughout the course
Includes an overview of R, its advantages and disadvantages, coding fundamentals and data wrangling
Introduce base plotting in R
Introduction to SQL and connecting R to SQL databases for the implementation of a seamless data pipeline
Static and interactive visualization in R–1 week, 2 classes
Build intuitive data visualizations in ggplot
Deeper dive into interactive libraries including plotly and Highcharts
How to visualize outputs from the algorithms we covered
Introduction to foundational statistics, linear regression and a scientific approach to building a model –1 week, 2 classes
Covers statistics that we will be using in subsequent classes, such as:
Correlation/covariance
Autocorrelation
T-tests/f-tests/p-values/confidence intervals
Review of linear and polynomial regression
LOESS regression
Introduction to the model building process
Train/test sets
Unsupervised vs. supervised learning
Unsupervised learning methods –1 week, 2 classes
Midway capstone presentations –0.5 week, 1 class
Text Mining in R –1.5 weeks, 3 classes
Working with the tm package in R
Cleaning and manipulating text
Introduction to regular expressions
Summary metrics of corpora and visualization of text data
Supervised learning methods -Classification –1.5 weeks, 3 classes
Introduction to classification including creating dummy variables in R and other techniques used to transform data for a classification problem k-Nearest Neighbors
Logistic regression with LASSO and Ridge penalties
Decision trees, Random Forest
Support Vector Machines
Finalize capstone projects and open discussion/work –0.5 weeks, 1 class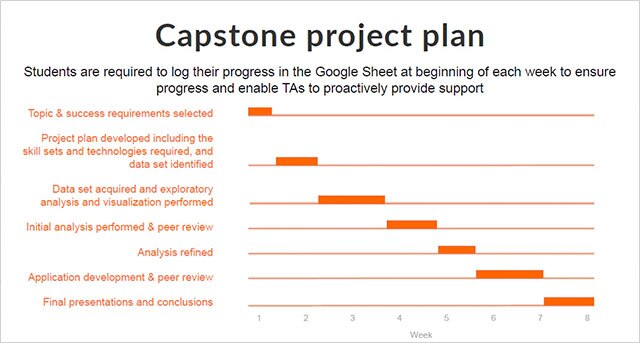 Week 1: Topic and success requirements selected.
Weeks 1-2: Project plan developed including the skill sets and technology required, and data set identified.
Weeks 2-4: Data set acquired and exploratory analysis and visualization performed.
Weeks 4-5: Initial analysis performed & peer review.
Week 5: Analysis refined.
Weeks 6-7: Application development and peer review.
Weeks 7-8: Final presentations and conclusions.
Content created by Office of the Chief Technology Officer (CTO)