The Data Initiative
About the Initiative
Across the U.S. Department of Health and Human Services (HHS), agencies collect a vast array of data to better understand the health of the nation. The Office of the CTO has been a leader in the federal government in enabling the public release of more than 2000 data sets collected by HHS for use by researchers and entrepreneurs. The Open Data movement continues to be a focus of the Department and the Office of the CTO is committed to making data available for the public to do research, develop applications, and create new products to improve health.
Updates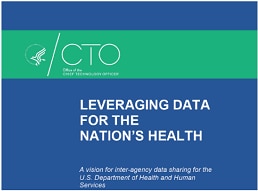 The report on Leveraging the Nation's Healthcare Data outlines a vision for data sharing at HHS. The report promotes data driven decision-making through the launch of a platform that will enable data sharing and the convening of the Data Sharing Steering Committee, a group of senior leaders from across HHS that will focus on creating a more transparent, repeatable and accessible approach to using data. Based on input from across the agencies and on analysis of models in both industry and state level, this report presents a holistic approach to data sharing and change management necessary to enable a more evidence based organization.
Read our blog by Dr. Mona Siddiqui about the report Enabling a Data-Driven Institution through Organizational Change Management.
This report builds on our discovery work from 2018 that highlighted the key opportunities for the Department and is summarized in The Current State of Data Sharing at HHS.
Stakeholder Conversations
The independent nonprofit Center for Open Data Enterprise (CODE) and the Chief Data Officer in the Office of the Chief Technology Officer (CTO) at the U.S. Department of Health and Human Services (HHS) are co-hosting a series of three Roundtables to find ways to improve how health data is shared and utilized for the public good. The following roundtables have occurred so far:
Roundtable on Sharing and Utilizing Health Data for AI Applications on April 16, 2019
This Roundtable brought together over 70 expert stakeholders from government, industry, clinical research institutions, nonprofit organizations, and academia to discuss opportunities to share and utilize health data for artificial intelligence (AI) in healthcare. The purpose of this Roundtable was to identify high-priority health applications of AI and key issues for an HHS AI strategy to address. Participants discussed high-value health data types, challenges associated with utilizing health data for AI, and strategic considerations that HHS and other stakeholders should consider as they explore AI development in healthcare. This report summarizes the findings of the Roundtable.
Read the report: Sharing and Utilizing Health Data for AI Applications
Read the HHS press release
Read our blog about why data sharing matters
Roundtable on Balancing Privacy with Health Data Access on July 15, 2019
This Roundtable brought together approximately 70 different expert stakeholders from industry, academia, law, government, and civil society to discuss issues of data privacy. It also included patients and patient advocates from a variety of organizations who provided additional insight into health data privacy from a patient's perspective. The purpose of this Roundtable was to empower data providers and users to maximize the utility of sensitive health data while providing necessary privacy measures and addressing risk. Participants discussed privacy risks and current issues in health data use, shared approaches to managing risk, and identified actionable opportunities for HHS.
Read the report: http://reports.opendataenterprise.org/RT2-Privacy-Report-Final.pdf
Roundtable on Leveraging Data on the Social Determinants of Health, October 3, 2019
This Roundtable brought together more than 80 experts from government, industry, clinical research institutions, nonprofit organizations, payers and academia to explore new strategies for combining SDOH data with research, clinical, and public health data, and to help develop a new data-driven paradigm for socially focused healthcare. The report calls for a national SDOH Data Strategy that can provide the policy framework to improve interoperability and data access, address privacy concerns, and broadly set the agenda for improved use of SDOH data. This report summarizes the findings of the Roundtable. http://reports.opendataenterprise.org/Leveraging-Data-on-SDOH-Summary-Report-FINAL.pdf
Content created by Office of the Chief Technology Officer (CTO)