Global Partnerships for Global Health
Summary:
Global health security requires a global response. That's what we are working on across nations and across oceans.
The world is coming together to respond to global health threats.
Just last Friday, I welcomed leaders from across the globe to Washington, D.C. for the 16th Annual Global Health Security Initiative (GHSI) Ministerial Meeting. I sat down with the health ministers and senior delegates from Canada, France, Germany, Italy, Japan, México, the United Kingdom, the European Commission, and the World Health Organization.
The GHSI network is a crucial forum to work together on global health security threats. Since 2001, our nations have come together to discuss the lessons we've learned from past crises and to prepare for future challenges. Since that first meeting, we have met in person every year to make sure we are individually and collectively ready to respond to global public health emergencies.
This year, we agreed to collaborate on more efficient and rapid ways to respond to global health security threats. We discussed how important it is to rapidly share biological samples, so we can quickly understand outbreaks and implement the best response. We agreed to quickly finalize a Sample Sharing Framework, which provides a process for sharing biological materials and a model material transfer agreement that will help countries share samples during public health emergencies. And we talked about lessons learned from the outbreak of Ebola in West Africa, and how we can use these in our response to the recent outbreak of the Zika virus.
We also agreed that strengthening existing partnerships and institutions is key to how we'll be prepared in the future. We focused on fulfilling the targets of the Global Health Security Agenda, improving the emergency response system for the WHO and linking with the pandemic preparedness efforts of the World Bank. And this week, because this work across nations is so important, we released an updated version of the HHS Global Strategy. The health and safety of Americans and people around the world are more closely linked than ever before.
Global health security is a responsibility we all share. So we're putting these strategies and these frameworks to work on the Zika virus outbreak. Based on what we know, we are focused on reducing the risk to pregnant women through prevention, detection and response.
Global health security requires a global response. That's what we are working on across nations and across oceans. This is our commitment as members of the World Health Organization and the global health security partnerships, and our responsibility as global citizens.
So as we continue our work together, I want to share a few snapshots from the 16th GHSI Ministerial meeting with you: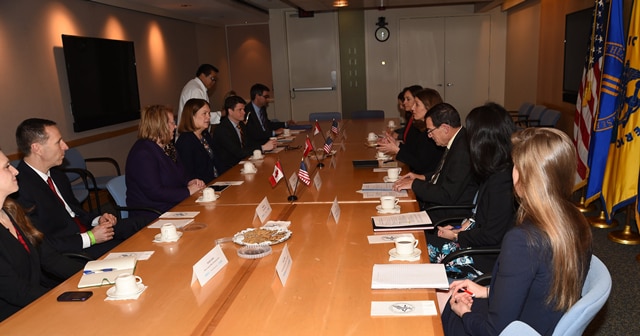 We were fortunate to have a number of bilateral meetings to discuss our shared goals for global health security. Here we're having a productive discussion with our partners on global health from Canada, led by their new Minister of Health, Jane Philpott.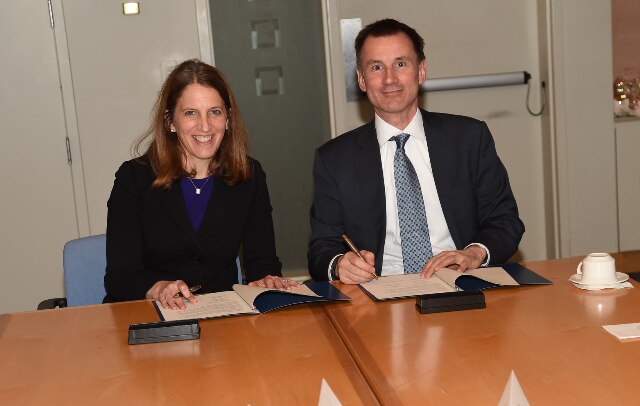 One of the forces transforming how we deliver health care is the way we safely share and safely use health data. Here, Jeremy Hunt, the United Kingdom's Secretary of State for Health, and I conclude a valuable bilateral meeting by signing an agreement on health data.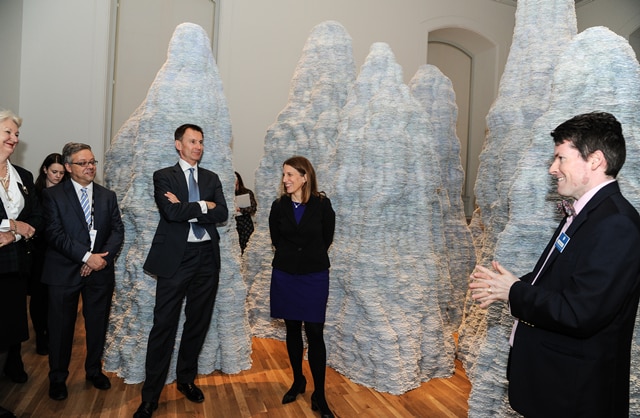 Showing off Washington's wonderful Renwick Gallery with an expertly guided tour for our GHSI colleagues. Here we stopped by Tara Donovan's "Untitled", which uses everyday items like toothpicks, straws, and index cards to make these enormous sculptures. A good illustration of how much stronger we are together.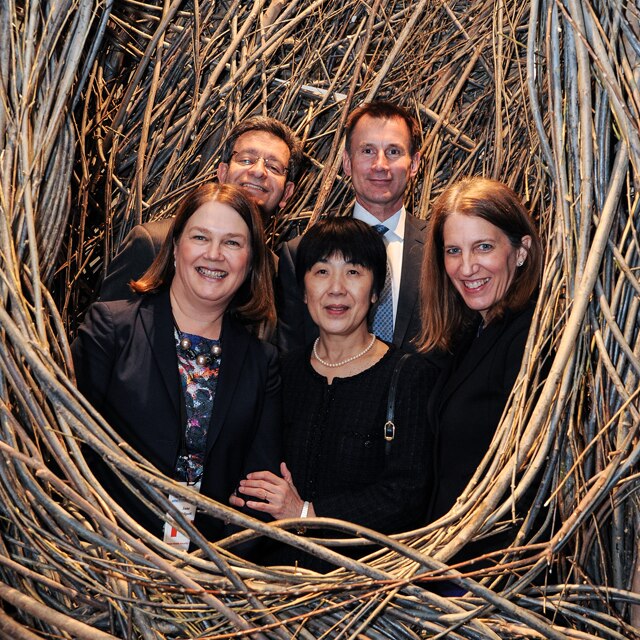 Taking a moment for a group photo in Patrick Dougherty's "Shindig" with Jane Philpott of Canada, Pablo Kuri Morales of Mexico Naoko Yamamoto of Japan and Jeremy Hunt of the United Kingdom. Don't worry. We made it out in time to see the next exhibit.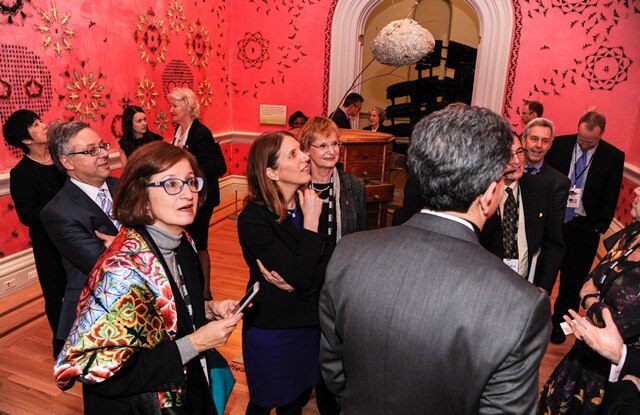 My GHSI colleagues and I also visited Jennifer Angus's "In the Midnight Garden", appreciating a room decorated solely from insects – even down to the paint. I guess you could say something about the color bugged me.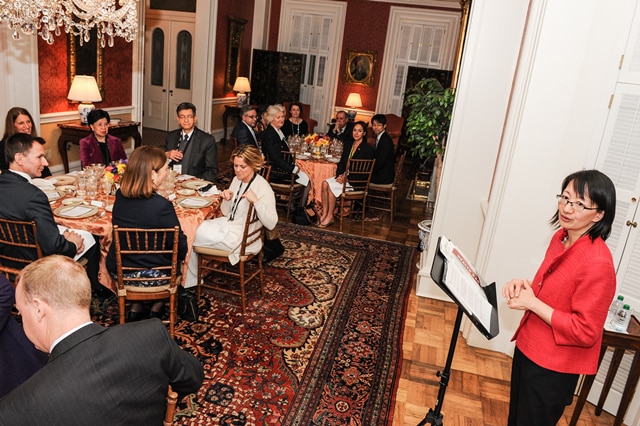 In the historic Blair House, we all took an opportunity to listen to Dr. Vivian Lee from the University of Utah – a leader in health care delivery.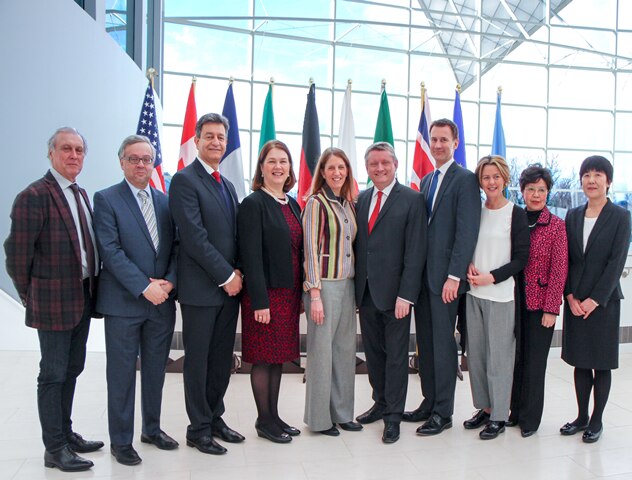 For our second day of meetings, we convened at the United States Institute for Peace. Here, I am joined on the left by (L to R) Jean-Francois of France, Martin Seychell of the European Commission, Pablo Kuri Morales of Mexico, Jane Philpott of Canada. To the right (L to R), Hermann Grohe of Germany, Jeremy Hunt of the United Kingdom, Beatrice Lorenzin of Italy, Margaret Chan of the World Health Organization, and Naoko Yamamoto of Japan.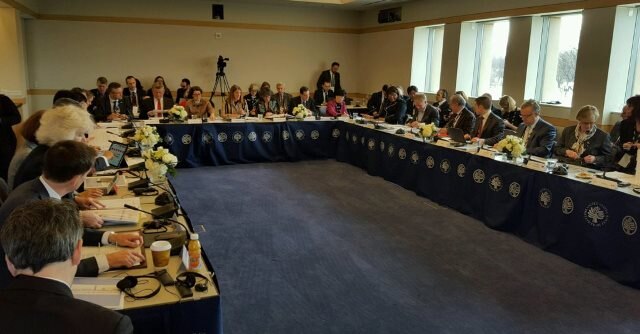 Here, we all convened for one of many productive sessions where we could share our best practices and opportunities for collaboration.