Joelisa Castillo's #GetCovered Story: Taking Care of Her Health for her Daughter
Summary:
I urge all Americans to get covered. It is important to get insured and maintain your health. Go for physicals. You never know what might happen.
This blog was updated on September 29, 2016, to reflect the latest information about Joelisa and her Marketplace coverage.
I'm a community health worker with a small nonprofit in Milwaukee. More importantly, I'm the mom of an 8-year-old daughter. I used to have health insurance through a previous job, but I lost that coverage when I switched to the nonprofit for greater flexibility and pay to better provide for my daughter.
But I'm always thinking about my daughter and her health and security. So when I made the job switch, I wanted to make sure that we continued to have access to quality health care. That's when I checked out the Health Insurance Marketplace and found a plan that after our tax credit cost a fraction of the $500 monthly premium I paid for our insurance through my previous job.
This year, my daughter will be able to get her checkups and vaccinations through Wisconsin's BadgerCare. I shopped for coverage for myself to make sure my eye specialist is part of my plan's network and enrolled in a Marketplace plan that now costs $129 a month after the tax credit, which is very affordable for me.
Health care coverage is very important for me so I can manage several chronic conditions, including a metabolic syndrome that carries a high risk of progressing to diabetes. It's important that I get regular checkups and screenings because there is diabetes and breast cancer on my father's side of the family and cardiovascular issues on my mother's side.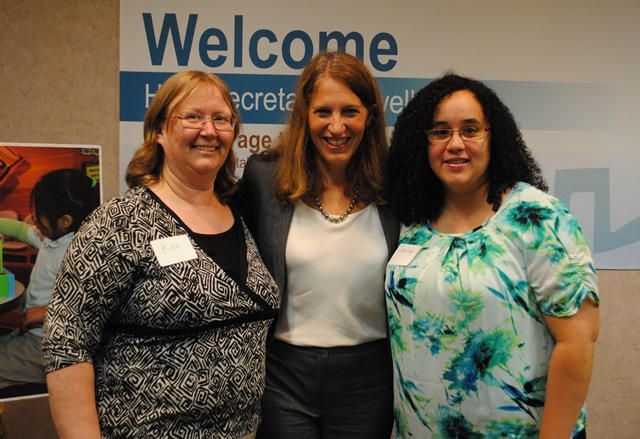 As women, we too often take care of our own health last, and that's particularly true in the Hispanic community. We take our kids for their checkups and flu shots, but we don't make time for ourselves. Yet healthy, strong women are essential to building healthy, strong children and communities throughout the country. I have to be a healthy mom for my daughter.
I urge all Americans to get covered. It is important to get insured and maintain your health. Go for physicals. You never know what might happen. 
Don't delay. Check out your options at HealthCare.gov or CuidadoDeSalud.gov and select a plan that meets your health needs and budget. You must sign up by January 15th for coverage that begins February 1, or by the final deadline of January 31st for coverage that starts March 1st.
There's financial assistance to make coverage more affordable. And that's particularly important since people who can afford insurance and choose to go without it risk having to pay a fee of $695 or more. For instance, a family of four with an income of $70,000 would probably have to pay a fee of about $2,085 for 2016.
If you need help or more information about how to enroll, you can contact the 24/7 call center at 1-800-318-2596 and get confidential, free assistance in English or Spanish. Or you can find in-person help near you at LocalHelp.HealthCare.gov.
Even though I'm an experienced community health worker and I know computers, I was happy to get help from a navigator who spoke Spanish and could explain such details as tax credits to me and guide me through the process.
As a mother, it means so much to me to provide a healthy, secure life for my daughter and me. She may seem to be growing up fast, but she's still my precious daughter.