Fighting Opioid Addiction is Personal
Summary:
I'm currently working on a master's degree to be a professional counselor so I can help others recover from addiction.
My addiction didn't start with heroin.
I first became addicted to prescription pain medication 16 years ago when I was in high school. After having my wisdom teeth pulled, I accidentally took a larger than recommended dose and I liked the way it felt.
When the prescription ran out, I took to buying pills on the street or getting them from my friends. Oxycodone was everywhere.
I tried to get away from the drug scene at college, but old friends introduced me to other opioid drugs. I would take them, not to get high, but to keep from feeling sick.
My parents got me into rehab, but then someone would offer me a pain pill and I would be right back where I started. I was in and out of rehab several times.
After one stay, I begged my boyfriend, who I met in rehab, to help me try heroin. Why did we do it?  I don't know. It was stupid—and nearly fatal.
When I started with heroin, it was the first time I had used a needle. I hit an artery in my hand, which led to blood poisoning. The doctors had to amputate the tip of my index finger and a knuckle on my left hand. 
The chief doctor on my case was harsh; he said I deserved this. Yet another doctor, who knew my history, for some reason prescribed three months of oxycodone as I left the hospital. I was hooked again.
My now-fiancé and I continued to buy heroin because it was cheaper and easier to get than prescription opioids.
Then in July 2011, I got a serious blood infection and required emergency open heart surgery. A great group of doctors saved my life twice. First they saved me from heart failure, and then they saved me from my addiction.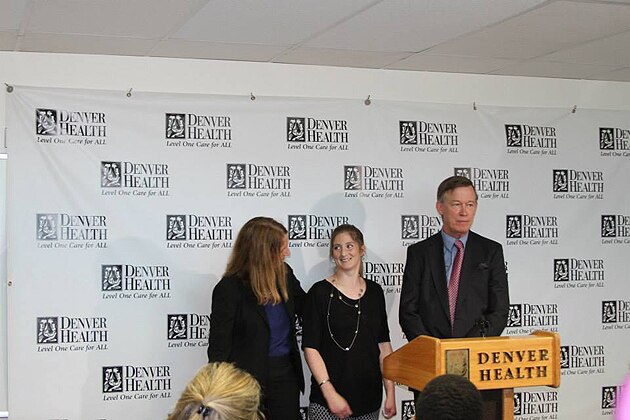 Some people can go cold turkey to get and stay sober, but what is working for me is medically-assisted treatment. My doctors connected me with the methadone clinic at the Denver Health Medical Center, where I get methadone and counseling. Today, a physician coordinates my treatment and makes sure I comply with the program.
I'm looking forward to the time when I won't need methadone at all. For now, though, it's the medicine I need to maintain the healthy version of me. It's giving me time to rewire my brain and recover.
I've been sober four years now. I don't want to be that addicted person any more.
I'm currently working on a master's degree to be a professional counselor so I can help others recover from addiction. I also volunteer as a peer recovery support team member at Denver Health's methadone clinic and I work part time on an HIV/Hepatitis C survey for the Centers for Disease Control and Prevention. My fiancé is also sober. These days he works as a peer counselor.
Do you need help fighting your addiction? Do you know someone else who does? Recovery is possible. You can find resources here and here.
Learn more about what the Department of Health and Human Services is doing to address the opioid abuse problem.