Welcome to the Reimagined HHS.gov
Summary:
Learn more about the improvements we made to HHS.gov to help you find the information and resources you need faster and easier.
Rethought. Restructured. Reimagined. Welcome to the new HHS.gov. Research tells me I have seven seconds to grab your attention. People are busy; want information fast. So, a quick intro to the new HHS.gov.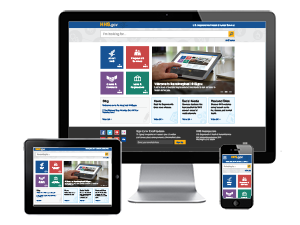 Reimagined for your mobile device or computer
It's a mobile-first design. Our site responds automatically to your screen size. Content is available anytime, anywhere, on any device. Top content is at the top of the page. The tile navigation is clear, intuitive, with fewer dead ends.
A larger search box invites you to a powerful smart search, with predictive fill and key matches to ensure your best options come to the top. There's even a "fact box" on the search results page to serve you the "bite," the core information, without even needing to click. We understand you need info now.
Reimagined to streamline your experience
We cleaned out the attic, tossing a whopping 154,000 obsolete files, so search is faster and we don't waste your time wading through outdated content. We're organizing content by topic so you won't have to know, for example, that to find HIPAA information, you need to go to the Office for Civil Rights (OCR) webpage.
We've increased opportunities for engagement, content sharing, syndication, and much, much more.
Reimagined from your perspective
The re-imagining of HHS.gov was guided by surveys, web analytics, workshops, market research, and usability testing with the public. We learned from digital leaders; WIRED magazine, for instance, which undertook a similar project, and NPR, which pioneered content re-purposing.
Reimagined for the future
This is just Phase 1 of a work in progress. We launch three more phases in 2015, including the OCR/HIPAA redesign this winter. And we'd like your help; let us know what you think about the new HHS.gov by taking our website feedback survey.
To borrow from Scott Dadich, editor-in-chief of WIRED: "We didn't design the site to be perfect. We designed it to be perfected."