A Shot of Truth: Myth Busting Excessive Alcohol Use
Summary:
Excessive alcohol use is a problem across the lifespan, and most people who drink too much are not alcohol dependent.
When I tell people I work to prevent excessive alcohol use, I typically get one of two responses: they assume I'm either working on college campuses or with people diagnosed with alcohol dependence. My response is always the same: Yes, those are important areas, but the problem is much bigger than that.
In fact, excessive alcohol use is a problem across the lifespan, and most people who drink too much are not alcohol dependent. These facts were highlighted in a recent CDC Vital Signs report on alcohol poisoning deaths. We analyzed deaths due to alcohol poisoning using U.S. death certificate data for 2010-2012, which were reported to the National Vital Statistics System. We found:
2,200 Americans died each year of alcohol poisoning—an average of 6 deaths every day.
Three in four alcohol poisoning deaths involved adults 35 to 64 years old, and 3 in 4 were men.
When assessed by race and ethnicity, the majority of deaths were among non-Hispanic whites.  However, American Indians/Alaska Natives had the most alcohol poisoning deaths per million people.
Alcohol poisoning death rates also varied widely across states, from 5.3 deaths per million residents in Alabama to 46.5 deaths per million residents in Alaska.
Alcohol dependence was identified as a factor in 30% of these deaths, and other drugs contributed to 3% of the deaths.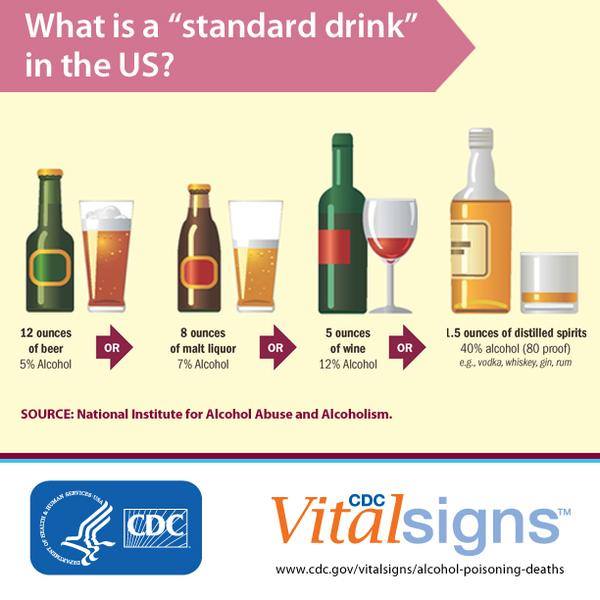 Alcohol poisoning deaths are one of many tragic consequences of excessive drinking, and more specifically binge drinking (i.e., consuming 4 or more drinks on an occasion for women or 5 or more drinks on an occasion for men), which is the most common and deadly pattern of excessive drinking in the United States.  In all, approximately 88,000 deaths a year are from excessive alcohol use, and many of these deaths involve people who are in the prime of their lives. Excessive drinking is responsible for 1 in 10 deaths among working-age adults, and cost the United States $223.5 billion ($1.90 per drink) in 2006.
As we work to prevent these tragic deaths, we need to first understand the problem and then assess how that impacts the solutions. As with tobacco and nutrition, in order to address excessive drinking at a population level we have to create communities and environments that don't promote drinking too much. To learn what your community can do to reduce excessive drinking, visit our prevention fact sheet.
Finally, did you know that the Dietary Guidelines for Americans has recommendations for alcohol use? They recommend that if you choose to drink, do so in moderation—up to 1 drink a day for women or 2 drinks a day for men. And don't start drinking or increase the amount you drink on the basis of potential health benefits.  Some people should not drink at all, including underage youth, women who may be pregnant, and people with certain medical conditions. Keep these recommendations in mind as you kick off a healthy 2015.