The Fight Against Measles Starts with Vaccination
Summary:
One thing we are most certain of, the measles vaccine is safe and very effective.
The elimination of measles in the United States in 2000 is one of public health's most celebrated success stories.
Before the measles vaccination program started in 1963, about 3 to 4 million people got measles each year in the United States. Of those, 400 to 500 died, 48,000 were hospitalized, and 4,000 developed brain swelling (encephalitis).
 With a highly effective measles vaccine, along with a strong vaccination program that achieves high vaccine coverage in children, and a strong public health system for detecting and responding to measles cases and outbreaks, we were able to eliminate measles.
But as recent outbreaks have revealed, there is still reason to be concerned about measles. Last year we saw 644 measles cases in the United States—more cases than we had seen in 20 years. In 2015, there are already more than 100 cases; most are related to a large, ongoing outbreak linked to an amusement park in California.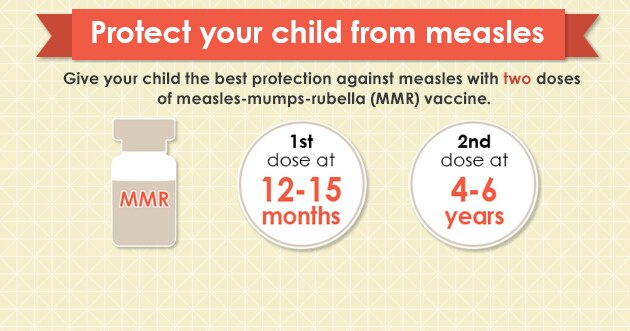 Measles is still common in other parts of the world and can be brought into the United States anytime by a person who gets infected in another country. In recent years, many measles cases have been brought into the United States from common U.S. travel destinations, such as England, France, Germany, India, and, during 2014, from the Philippines and Vietnam.   Measles spreads easily through the air when an infected person coughs or sneezes. It is so contagious that if one person has it, 9 out of 10 of the people around him or her will also become infected if they are not protected. Pockets of unvaccinated communities are especially at risk for large outbreaks.
While most people in this country are protected against measles through vaccination, the current outbreak highlights the importance of vaccination, as the majority of the adults and children in the outbreak reportedly either did not get vaccinated or did not know whether they had been vaccinated. One thing we are most certain of, the measles vaccine is safe and very effective. Two doses of measles vaccine are 97% effective, and even one dose is 93% effective.
If you are unsure of your vaccination status, talk with your doctor. By making sure everyone is protected against measles, we can help prevent measles from getting a foothold in this country again.
######
Have more questions about measles? See CDC's frequently asked questions about measles in the U.S.