#PumpingatWork After We #LeadOnLeave: Tips to Support Nursing Moms
Summary:
The HHS Office on Women's Health is helping new moms with breastfeeding, even after they return to work.
Today a majority of women go back to work after having a baby. But it's getting harder and harder to balance the demands of the family you love and the job you need. Which is why President Obama recently announced several initiatives to help fully support and empower working parents in both their roles as workers and parents. The Department of Labor is helping us #LeadOnLeave by implementing paid family leave policies.  The HHS Office on Women's Health is helping new moms with breastfeeding, even after they return to work.
Working at an hourly-wage job can be a big hurdle for a new mom who wants to continue breastfeeding after maternity leave. In a place like a fast-food restaurant or a large retail store, pumping at work can be particularly difficult. So we launched a new online resource: Supporting Nursing Moms at Work: Employer Solutions.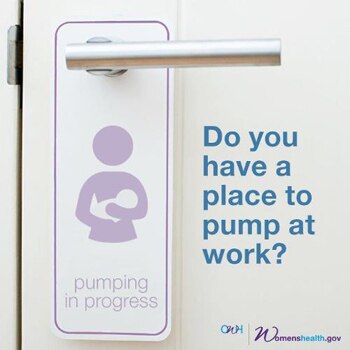 Most companies are now required by the Affordable Care Act to provide reasonable break time and a private space for breastfeeding employees under the "Break Time for Nursing Mothers" law. We wanted to help all kinds of businesses give nursing moms the time and space they need. On this new website you can find videos, photos, and stories from all types of workplaces with simple, low-cost solutions for private space and break time for nursing moms.
Working at a restaurant, retail store, school, or factory means it can be difficult to find a private place or take a break to pump every few hours. We found employers who got creative and made it work for their employees. Check out these short videos:
Supporting Nursing Moms at Work: in Factories
Supporting Nursing Moms at Work: on Farms
Supporting Nursing Moms at Work: in Fast-food
We also partnered with a few other government agencies to show you how they support nursing moms. While it's not rocket science, NASA has some great ideas on supporting nursing moms at work. We can give you a peek into the lactation center at the largest library in the world – the Library of Congress. You can even see how firefighters and policewomen in the city of Los Angeles benefit from the city-wide lactation policy.
Does your employer have questions about how to provide reasonable accommodations? Show them our Frequently Asked Questions page to get them started and use #pumpingatwork to share your story!