Expanding Access to High Quality Child Care for Low-Income Families
Summary:
Providing universal access to high quality child care for all low-income families is a win-win-win for children, their families, and our economy.
As the son of a single mom, and the father of a household with two working parents, President Obama understands firsthand the many struggles and great potential of American families.
Today, the President took a bold step to support children and working families by proposing to expand access to high quality child care for low-income families.  In partnership with states, this investment will help approximately 1.15 million additional young children by 2025 and support States' efforts to build the supply of quality care available to low income families.   This proposal, together with the President's proposed expansion of the child care tax credit for middle class families, will help families make ends meet when they are faced with the high cost of child care.  And it will mean that lower-income families with young children will be guaranteed child care when parents go to work.
Expanding access to affordable child care helps working moms and dads stay active in the workforce, especially women, as a recent report from the Council of Economic Advisors (CEA) showed.  Evidence also shows that single parents who have child care are much more likely to complete job training programs than those who do not have access. This support system can help break the cycle of poverty and give struggling families a leg up.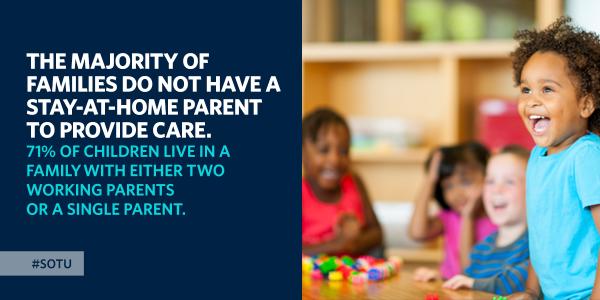 By enabling more low income parents to work, go to school, or participate in a job training program, we bolster our workforce today, while ensuring the competitiveness of our workforce for tomorrow.  By ensuring high quality child care we can also prepare our youngest children for school, supporting the competitiveness of our economy, both now and in the future. 
We know that in the first few years of life, children's brains develop at a pace faster than at any other point in their lives.  In fact, the human brain grows to about 80 percent of adult size by three years of age and 90 percent by age five. Those first five years of life are the best time to set children on the best path for the future.
And economists agree. The recent CEA analysis on the benefits of supporting our youngest learners reported that investments in early education may reduce the need for special education placements and remedial education, and later in life, involvement with the criminal justice system.  High quality early learning experiences are also linked to increased productivity and earnings when these children become adults. These improved outcomes for children are beneficial for all Americans.
And we know that the achievement gap starts long before children go to school. Research has found that by nine months of age children from lower income families are falling behind higher income children on measures of learning and health - and this gap grows over time. The best way to close the achievement gap is to prevent it from opening in the first place. The President's early learning investments will help do that -- spanning the continuum from birth to kindergarten, including evidence-based home visiting that equips parents to support early learning at home.
As the President said during his State of the Union address, "It's time we stop treating childcare as a side issue, or a women's issue, and treat it like the national economic priority that it is for all of us." America is strongest when we "field a full team." The science is clear. The numbers are clear.  We can ensure that each step on the ladder of opportunity is strong and available to all. Providing universal access to high quality child care for all low-income families is a win-win-win for children, their families, and our economy both now and in the future.
FACT SHEET: Helping All Working Families with Young Children Afford Child Care