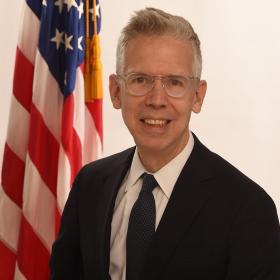 Assistant Secretary for Financial Resources (ASFR)
Department of Health and Human Services
Robert Gordon was confirmed by the U.S. Senate in September 2022 to serve as the Assistant Secretary for Financial Resources (ASFR) and Chief Financial Officer for the U.S. Department of Health and Human Services. He serves as the principal advisor to the Secretary on all aspects of budget, finance, grants, and acquisition management, and provides direction and implementation of these activities across the Department. ASFR is responsible for the stewardship of HHS's $1.7 trillion in budgetary resources.
Mr. Gordon has worked in key federal, state, and local government positions across three decades. From 2019 to 2021, he served as Director of the Department of Health & Human Services for the State of Michigan, playing a central role in the state's pandemic response, expanding access to health care, and addressing racial disparities. During the Obama-Biden Administration, Mr. Gordon served in several roles, including as Acting Deputy Director and Executive Associate Director at the Office of Management & Budget. Among other responsibilities, Mr. Gordon guided key evidence-based policy and early childhood initiatives initiatives. Earlier in his government career, Mr. Gordon served as a senior official at the New York City Department of Education, a law clerk for Justice Ruth Bader Ginsburg, and a White House aide helping create the AmeriCorps program. Mr. Gordon also co-chaired the agency review team for the Department of Health and Human Services for the Biden-Harris Transition.
Outside of government, Mr. Gordon most recently served as a senior advisor at the Center for Budget & Policy Priorities and a senior advisor for Poverty Solutions at the University of Michigan. He has also worked as Senior Vice President for Strategy and Finance at the College Board and as a law guardian for children in abuse and neglect proceedings. He has also been a fellow at the Urban Institute, the Brookings Institution, and the Center for American Progress. Mr. Gordon graduated from Harvard College and Yale Law School. He and his wife, Catherine Brown, have two sons.