Image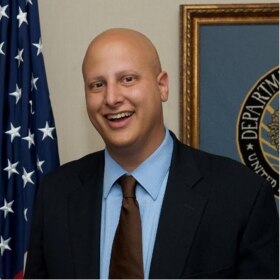 Eric Waldo, J.D., M.Ed.
Director of Engagement, Office of the Surgeon General (OSG)
Eric Waldo most recently served as Executive Director of Michelle Obama's Reach Higher initiative and Chief Access & Equity Programs Officer at the Common App. Waldo worked to inspire every student in the U.S. to take charge of their future by completing a post-secondary education, whether at a professional training program, a community college, or a 2-year or 4-year college or university. His role cut across policy, advocacy, and community engagement to further the goal that the U.S. once again leads the world in terms of college graduates.
Before joining the White House, Waldo was Deputy Chief of Staff (DCOS) at the Department of Education (ED), where he helped lead and manage ED through President Obama's historic investment of $100B in education funding via the Recovery Act. This work created important investments around system-level, cradle-to-career changes for states, districts, schools, and communities. Waldo also helped manage the Department of Defense (DOD) global K-12 school system as the Co-Chair for the Advisory Council for Dependents' Education, which advises and oversees the DOD schools.
One of the first attorneys hired on the 2007-2008 Obama Campaign, Waldo served as Deputy Staff Counsel, providing legal guidance on a wide array of election protection and operational issues for the $750M Obama enterprise. After serving as an attorney on the Obama-Biden Presidential Transition Team, Waldo joined ED as Special Assistant to Sec. Duncan prior to becoming DCOS.
Waldo earned a J.D. from the University of Chicago Law School, an M.Ed. from Harvard University, and an A.B. from Brown University. He currently resides in Washington, D.C. with his wife, Katie.