Topics on this page: Center for Medicare & Medicaid Innovation Budget Overview | Innovation Center Models and Initiatives | Primary Care Transformation | Accountable Care Models | Bundled Payment Models | Initiatives to Speed the Adoption of Best Practices | Initiatives to Accelerate New Service Delivery and Payment Model Testing | Initiatives Focused on Prevention | Initiatives to Innovate Health Plans under Medicare | Initiatives Focused on the Medicaid Population | Initiatives Supporting Medicare-Medicaid Enrollees | 2015: Innovation Center Year in Review
---
Center for Medicare & Medicaid Innovation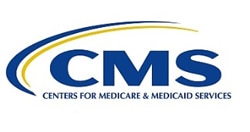 The Centers for Medicare & Medicaid Services ensures availability of effective, up-to-date health care coverage and promotes quality care for beneficiaries.
Center for Medicare & Medicaid Innovation Budget Overview
(Dollars in millions)
Obligations and Outlays
2015
2016
2017
2017
+/- 2016
Innovation Activities

1,096

1,484

1,143

-341

Innovation Supports

146

206

191

-15

Administrative Expenses

109

139

149

+10

Total, Innovation Center Obligations
1,351
1,829
1,483
-346
Total, Outlays
971
1,408
1,595
+187
The Center for Medicare & Medicaid Innovation ("Innovation Center") is tasked with testing innovative health care payment and service delivery models with the potential to improve the quality of care and reduce Medicare, Medicaid, and Children's Health Insurance Program (CHIP) expenditures. The Affordable Care Act appropriated $10 billion to support Innovation Center activities initiated from FY 2011 to FY 2019.
The Innovation Center's portfolio of models has attracted participation from a broad array of health care providers, states, payers, and other stakeholders and serves Medicare, Medicaid, and CHIP beneficiaries in all 50 states, the District of Columbia, and Puerto Rico. Over 4.7 million Medicare, Medicaid, and CHIP beneficiaries are or soon will be receiving care furnished by the more than 61,000 providers participating in Innovation Center payment and service delivery models. Between FY 2010 and FY 2015, the Innovation Center has obligated approximately $4.3 billion.
Innovation Center Models and Initiatives
As of February 2016, the Innovation Center has announced or is actively testing over 25 major payment and service delivery models and other initiatives under the authority of section 3021 of the Affordable Care Act. Each of the models will be comprehensively evaluated with the potential for expansion if they are certified to be effective at improving quality without increasing spending or reducing spending while maintaining quality of care. In FY 2015, the Pioneer Accountable Care Organization model became the first model that the independent Office of the Actuary certified would reduce net Medicare spending if expanded.
Primary Care Transformation
Performance Highlight
Delivery System Reform
In January 2015, HHS announced a new goal to increase the percentage of Medicare fee-for-service payments tied to quality and value through alternative payment models, to 30 percent by the end of 2016 and 50 percent by the end of 2018. Increasing participation in Innovation Center models and developing additional models that serve a broader range of providers and patients are key to helping to achieve this high priority goal.
Comprehensive Primary Care Initiative
In October 2011, the Innovation Center announced the Comprehensive Primary Care Initiative, in which private payers and state Medicaid programs partner with Medicare to invest in primary care. The initiative was rolled out in two phases. The Innovation Center first selected seven markets with significant payer interest to participate in this demonstration. As of October 2015, there are 447 practices participating in the initiative. In total, 2,188 participating providers are serving approximately 2.7 million patients, of which approximately 410,177 are Medicare or Medicaid beneficiaries. The selected practices receive additional care coordination or similar payments from all participating payers. In years two through four of the initiative, practices have an opportunity to earn shared savings from Medicare as well as other participating payers.
In January 2015, CMS released the first annual evaluation report on this Initiative. Over the first 4 quarters, the model appears to have reduced total Medicare A and B expenditures by $14 per member per month (or 2 percent)—enough to nearly offset the care management fees paid. The model is also increasing patient access to care with 100 percent of participating practices offering expanded access to a clinician.
The Innovation Center is continuing to explore ways to encourage the delivery of more comprehensive primary care services. In February 2015, the Innovation Center released a request for information on future models that could test innovations in advanced primary care, specifically seeking comment on ways to improve the care of patients with complex needs; to facilitate robust connections to the medical neighborhood and community-based services; and to move payment from encounter-based towards value‑driven, population-based care.
Program Highlight
Promising Results from the Pioneer ACO Model
In May 2015, HHS announced that the Pioneer ACO Model met the stringent criteria for expansion to a larger population of Medicare beneficiaries. The independent Office of the Actuary certified that the model would reduce net Medicare spending if expanded. Furthermore, the Secretary determined that an expansion of the model would improve patient care without limiting coverage or benefits. /1 Since the model has proven to be successful, CMS decided to incorporate elements of the model into a new track, Track 3, in the Medicare Shared Savings Program.
Further, results from the third year were announced in August 2015—and they continued to show strong performance by Pioneer ACOs. During the third performance year, Pioneer ACOs generated total model savings of $120 million, an increase of 24 percent from the second performance year. Eleven ACOs qualified for shared savings payments of $82 million. The ACOs showed improvements in 28 of 33 quality measures and experienced average improvements of 3.6 percent across all quality measures compared to the second year of the model. /1
1/ The independent Office of the Actuary certification and all other performance results can be found at https://innovation.cms.gov/initiatives/Pioneer-aco-model.
Accountable Care Models
As part of CMS's effort to promote accountable care, the Innovation Center has launched five accountable care initiatives. These initiatives build upon the Medicare Shared Savings Program established by the Affordable Care Act. Medicare Accountable Care Organizations (ACOs) have grown to over 477 nationwide, currently serving nearly 8.9 million beneficiaries since the Medicare Shared Savings Program and Pioneer ACO Model began in 2012. The results from the past four years have demonstrated that ACOs can provide better quality of care for beneficiaries while producing savings.
Pioneer Accountable Care Organization Model
This model has allowed health care organizations and providers that are already experienced in coordinating care for patients across care settings to move more rapidly to a population-based Medicare payment model. Pioneer ACOs have assumed more risk than participants in the Shared Savings Program and have committed to having the majority of their revenues across all payers come from performance based contracts (in which payment depends on quality of care) by the end of the second performance year. Nine ACOs remain in the model.
Advance Payment ACO Model
This model has tested whether pre-paying a portion of future shared savings could increase participation in the Medicare Shared Savings Program. Providing up‑front payments to certain physician led and rural organizations in the Shared Savings Program has allowed these ACOs to make investments in infrastructure and staff in order to improve patient care and reduce costs. Advance payments have been recouped from the actual shared savings payments that ACOs earned. Thirty-five ACOs participated in the Advance Payment Model and received their last advanced payments in June 2014.
ACO Investment Model
In October 2014, the Innovation Center announced a new model that builds on the experience with the Advance Payment Model to encourage the formation of new ACOs in rural and underserved areas and assist current Medicare Shared Savings Program ACOs in transitioning to arrangements with greater financial risk. There are currently 41 ACOs participating in the model.
Next Generation ACO Model
This model operates in the original Medicare fee‑for‑service program and maintains key aspects of the Medicare Shared Savings Program and Pioneer ACO Model. It tests how greater ACO accountability through new design elements examining whether greater financial risk, more predictable financial targets, payment and benefit enhancements, and a focus on beneficiary engagement—can collectively accelerate and sustain improvement in health care value. 21 ACOs started the model on January 1, 2016, with more joining January 1, 2017. The 5-year testing phase will end in 2020.
Comprehensive End-Stage Renal Disease Care (ESRD) Initiative
This initiative will incentivize the provision of high‑quality, efficient, and coordinated care to Medicare beneficiaries who require dialysis. In order to participate, groups of providers must form ESRD Seamless Care Organizations, which assume full clinical and financial accountability for assigned beneficiaries. These organizations will be eligible to share in any model savings with Medicare. There are 13 ESRD Seamless Care Organizations participating in the model.
Bundled Payment Models
Bundled Payments for Care Improvement Initiative
This initiative seeks to better coordinate care by providing a bundled Medicare payment for an episode of care involving one or more providers. The Innovation Center has been testing four models as part of the broader Bundled Payments Initiative—each model incorporates a somewhat different set of services and payment arrangements. Depending on the model, providers paid through the bundle may include (among others) hospitals, physicians, and skilled nursing facilities. However, within each model, providers or other risk-bearing organizations must offer a discount to Medicare as a condition of participating in the initiative. Model 1 concludes in 2016, while models 2 through 4 are ongoing. The initiative is projected to serve 130,000 Medicare beneficiaries. In these 3 models are 48 episodes that participants can choose from, such as acute myocardial infarction and urinary tract infection. Currently, the models have 1,507 participants.
Oncology Care Model
More than 1.6 million people are diagnosed with cancer each year in this country. A majority of those diagnosed are over 65 years old and Medicare beneficiaries. The Oncology Care Model is an innovative multi-payer model in which practices enter into payment arrangements that include financial and performance accountability for six-month episodes of care surrounding chemotherapy administration to cancer patients. The initiative will include 24-hour access to practitioners for beneficiaries undergoing chemotherapy, aimed at providing higher quality, more highly-coordinated, person-centered oncology care at a lower cost. This five-year model will launch in mid‑2016.
Comprehensive Care for Joint Replacement Model
This model, which is launching in April 2016, supports better and more efficient care for beneficiaries undergoing hip and knee replacements. Hip and knee replacements are the most common inpatient surgery for Medicare beneficiaries and can require lengthy recovery and rehabilitation periods. Despite the high volume of these surgeries, quality and costs of care for hip and knee replacement surgeries still vary greatly among providers and geographic areas. This model tests bundled payment and quality measurement for a 90 day episode of care associated with those procedures to encourage hospitals, physicians, and post-acute care providers to collaborate to improve the quality and coordination of care from the initial hospitalization through recovery.
CMS will implement the model in 67 Metropolitan Statistical Areas encompassing approximately 800 hospitals. Hospitals paid under the Inpatient Prospective Payment System and located in the selected areas are required to participate, with limited exceptions.
Initiatives to Speed the Adoption of Best Practices
Partnership for Patients
Partnership for Patients is a collaborative effort by CMS and more than 8,000 stakeholders across the nation, including over 3,400 hospitals, to improve patient safety. The Partnership sets ambitious targets of reducing hospital acquired conditions by 40 percent and hospital readmissions by 20 percent (compared to a 2010 baseline) over 4 years. Between 2010 and 2014, approximately 87,000 fewer patients died in the hospital as a result of the reduction in hospital‑acquired conditions. This Initiative among others contributed to these results. Innovation Center funding for this demonstration was extended and is scheduled to run through August 2016.
Transforming Clinical Practice Initiative
This initiative, totaling $685 million in Innovation Center funding, is testing strategies to help clinicians achieve large-scale health transformation. It will support 140,000 clinicians over the next 4 years in sharing, adapting, and further developing their comprehensive quality improvement strategies. In September 2015, the Innovation Center awarded cooperative agreement funding for 2 types of network systems under this initiative: 1) 29 Practice Transformation Network awards went to medical group practices, regional health care systems, and regional extension centers, to develop peer-based learning networks designed to coach, mentor, and assist clinicians in developing core competencies specific to practice transformation; and 2) 10 Support and Alignment Networks awards went to national and regional professional associations and public-private partnerships currently working in practice transformation efforts to provide a system for workforce development aligned with the goals of the model.
Health Care Innovation Awards
In 2012, the Innovation Center announced 107 recipients of Health Care Innovation Awards. These awardees, which include providers, payers, local governments, and other partners, were chosen based on the strength of their proposals to implement or expand compelling new models to improve care and reduce costs, with a particular focus on high need populations and workforce development. Awards spanned a three year time period, and approximately half of the recipients are executing no-cost extensions in FY 2016. Seven qualitative evaluation reports on the awardees were released in April 2015, with the evaluation of outcomes and results for each award underway.
In May 2013, the Innovation Center announced a second round of Health Care Innovation Award grants focused on several key areas, including outpatient and post-acute care, populations with specialized needs, practice transformation, and population health. A total of 39 awardees received this second round of funding. The performance period for round two began in September 2014 and extends through June 2017.
State Innovation Models
In February 2013, the Innovation Center announced a total of nearly $300 million in the first round of awards to 25 states to design or to implement health care delivery and payment system reforms in the context of a state-sponsored plan. In December 2014, the Innovation Center announced a second round of awards, providing more than $660 million to support 28 states, 3 territories, and the District of Columbia. In order to qualify for awards, states proposed reforms that incorporated multiple payers and are expected to improve quality of care and the health of the state population, while reducing costs. Some of the states are receiving funding to support the testing of such models. A total of 34 states, 3 territories, and the District of Columbia will receive funding through the model.
Innovation Accelerator Program
CMS launched the Medicaid Innovation Accelerator Program in July 2014 with the goal of supporting state Medicaid agencies' ongoing health care delivery reform efforts in key program priority areas by providing targeted, technical programmatic support. While complementing other federal-state delivery system reform efforts such as the State Innovation Model Initiative, the Innovation Accelerator Program provides additional technical assistance and tools to support states' service delivery innovations focused on reducing substance use disorders; improving care for Medicaid beneficiaries with complex needs and high‑cost; promoting community integration through long-term services and supports; and integrating physical health/mental health care.
Health Care Payment Learning and Action Network
The Health Care Payment Learning and Action Network provides a forum for public-private partnerships to help the health care system meet or exceed recently established Medicare goals for value-based payments and alternative payment models, specifically moving 30 percent of Medicare fee for service payments into alternative payment models by the end of 2016 and 50 percent into alternative payment models by the end of 2018. The Network provides payers, providers, employers, purchasers, states, consumer groups, individual consumers, and others an opportunity to discuss, track, and share best practices on how to transition towards alternative payment models that emphasize value. The Network is supported by an independent contractor that acts as a convener and facilitator. At the kickoff meeting in March 2015, nearly 200 participants attended. Nearly 5,000 individuals and 610 organizations have signed up, and many have set their own payment reform goals.
Initiatives to Accelerate New Service Delivery and Payment Model Testing
Maryland All-Payer Model
In 2014, the State of Maryland began testing the impact of all-payer hospital rate-setting on limiting overall cost growth, achieving measurable savings for Medicare, and improving on critical quality and outcome measures. If this model meets key goals over its initial five-year testing period, Maryland will have the opportunity to propose approaches to expand the model to other provider types, in addition to hospitals. In November, the New England Journal of Medicine published the first year financial and quality performance results of the model. The results showed that Maryland achieved $116 million in Medicare savings in one year alone, putting the model more than a third of the way towards its five-year savings goal of $330 million. The model also achieved a 1.5 percent growth rate in all-payer hospital cost per capita, well under the 3.58 percent cap. Maryland hospitals also achieved a modest reduction in the Medicare fee‑for‑service 30-day all-cause readmissions rate and a 26 percent reduction in all-payer potentially preventable conditions, which represents two-thirds of the way towards the 5-year target of 30 percent.
Medicare Care Choices Model
This model provides a new option starting in 2016 for Medicare beneficiaries with certain conditions who meet other participation criteria to receive select hospice services from participating providers while concurrently receiving curative treatment. Currently, Medicare beneficiaries are required to forgo curative care in order to receive access to palliative care services offered by hospices. This model represents a fundamental change in the delivery of care for persons with terminal illnesses. CMS will evaluate whether concurrently providing curative and palliative services to hospice beneficiaries can improve quality of life and patient and family satisfaction, increase access to supportive care services provided by hospice, and inform payment policy. Recently, 141 hospices, serving 150,000 beneficiaries, were selected to participate in this model throughout the 5-year period of performance.
Prior Authorization Models
The Innovation Center is currently testing two prior authorization models for repetitive scheduled non‑emergent ambulance transport and non-emergent hyperbaric oxygen therapy. The objective of the models is to test whether prior authorization reduces improper payments and thereby lowers Medicare costs, while maintaining or improving quality of care. The Medicare Access and CHIP Reauthorization Act of 2015 requires that the non-emergent ambulance transport prior authorization model expand from three states to nine starting in 2016 and allows this model to expand nationwide if it reduces costs while maintaining or improving quality of care.
Home Health Value-Based Purchasing
This is a five-year model which ties a portion of home health agency payment to quality. Participation in this model is required for home health agencies providing services in nine randomly selected states: Massachusetts, Maryland, North Carolina, Florida, Washington, Arizona, Iowa, Nebraska, and Tennessee. The goal of the model is to incentivize providers to offer improved care, which may result in reduced hospital admissions and skilled nursing facility stays during or immediately following home health care. Under this model, home health payments are based on a home health agency's performance relative to its peers. Payments for an individual home health agency could increase or decrease by as much as 3 percent in 2018 and by as much as 8 percent in 2022.
Initiatives Focused on Prevention
Accountable Health Communities Model
The Accountable Health Communities model will address critical gaps between clinical care and community‑based services. The Innovation Center will award up to 44 5-year cooperative agreements to eligible organizations responsible for developing referral networks of community service providers for Medicare and Medicaid beneficiaries to address their health-related social needs. Total award amounts will vary between $1 million and $4.5 million. Applications will be due by the end of March 2016 and the Innovation Center anticipates announcing awards in the fall of 2016.
Program Highlight
Announcing the Accountable Health Communities Model
On January 5, 2016, the Department of Health and Human Services announced the first-ever CMS Innovation Center pilot project to test improving patients' health by addressing their social needs. Many of the biggest drivers of health and health care costs are beyond the scope of health care alone. Unmet health-related social needs, such as food insecurity and inadequate or unstable housing, may increase the risk of developing chronic conditions, reduce an individuals' ability to manage these conditions, increase health care costs, and lead to avoidable health care utilization.
The Accountable Health Communities Model will provide up to $157 million over five years to "bridge organizations" to screen Medicare and Medicaid beneficiaries for social needs during a primary care experience and help them connect with and/or navigate the appropriate community-based services. The model will test three different approaches to addressing health-related social needs and linking clinical and community services:
Creating awareness by referring patients to community services;
Providing assistance including navigation services; and
Aligning community partners around the needs of Medicare and Medicaid beneficiaries.
Million Hearts® Cardiovascular Disease Risk Reduction Model
Heart attacks and strokes are a leading cause of death and disability for Americans. The Million Hearts® model proposes an entirely new way of lowering those risks across the population. Currently, providers are paid to meet specific blood pressure or cholesterol or other targets in their patients. The Million Hearts® model uses data-driven, widely accepted predictive modeling approaches to generate an individualized risk score for patients. Through this model, health care providers will work with Medicare beneficiaries to calculate their individual risk for a heart attack or stroke in the next 10 years based on their comprehensive profile of age, risk factors, blood tests, and behavioral factors. Patients will be shown various approaches to reduce risks—for example, stopping smoking, reducing blood pressure, or taking statins or aspirin. Providers will be paid for how much they reduce absolute risk for their high-risk patients. The model will start in 2016 and will run for five years.
Initiatives to Innovate Health Plans under Medicare
Part D Enhanced Medication Therapy Management Model
This model will test strategies to improve medication use among Medicare beneficiaries enrolled in Part D. Medication therapy management, when implemented effectively, can improve health care and outcomes for patients and has the potential to lower overall health care costs. Announced in September 2015, the model will begin in 2017 with a five-year performance period. CMS will test the model in five Part D regions across the country.
Medicare Advantage Value-Based Insurance Design Model
This model will test whether giving Medicare Advantage plans flexibility to offer targeted extra supplemental benefits or reduced cost sharing to enrollees who have specified chronic conditions can lead to higher quality, reduced utilization of avoidable high-cost care, and lower costs for plans, beneficiaries, and the Medicare program. The model focuses on Medicare Advantage enrollees with the chronic conditions of diabetes, congestive heart failure, chronic obstructive pulmonary disease, past stroke, hypertension, coronary artery disease, and mood disorders. The model will begin January 2017 and run for five years in Arizona, Indiana, Iowa, Massachusetts, Oregon, Pennsylvania, and Tennessee.
Initiatives Focused on the Medicaid Population
Strong Start for Mothers and Newborns
The Strong Start Initiative supports enhanced prenatal approaches to reduce the risk of significant complications and long‑term health problems for both expectant mothers and newborns in Medicaid and CHIP. The Innovation Center has worked with experts at the Centers for Disease Control and Prevention, National Institutes of Health, Administration for Children and Families, and the Health Resources and Services Administration to identify the goals and shape the direction of Strong Start. In February 2013, CMS awarded $41.4 million to 27 recipients under this initiative in 30 states, the District of Columbia, and Puerto Rico. The model is projected to reach 80,000 women enrolled in Medicaid and CHIP over the life of the 4-year initiative.
Initiatives Supporting Medicare-Medicaid Enrollees
More than 10 million Americans are dually enrolled in the Medicare and Medicaid programs. Section 2602 of the Affordable Care Act established the Federal Coordinated Health Care Office, also known as the Medicare‑Medicaid Coordination Office, to promote access to care, improve the overall beneficiary experience, and coordinate services for Medicare‑Medicaid enrollees. This office also provides technical assistance to support states' efforts toward innovative service delivery for Medicare-Medicaid beneficiaries.
Medicare‑Medicaid Financial Alignment Initiative
To incentivize high‑quality, coordinated care, CMS has partnered with states to design person‑centered approaches to align care across primary, acute, and behavioral health and long‑term supports and services. States participating in the initiative have designed models to improve quality and achieve savings using either a capitated payment system or the current fee-for-service structure. Implementation of the first financial alignment models began in 2013. As of December 2015, CMS has approved capitated models in 10 states and a managed fee-for-service model in 2 states. Additionally, Minnesota has implemented an alternative model to integrate care for Medicare-Medicaid enrollees, building on the state's current Dual Eligible Special Needs Plans infrastructure. New York has two capitated models, with one focused specifically on serving beneficiaries with intellectual and developmental disabilities.
Initiative to Reduce Avoidable Hospitalizations among Nursing Facility Residents
Nursing facility residents often experience potentially avoidable inpatient hospitalizations, which are expensive, disruptive, and disorienting for the frail elderly and people with disabilities. Through this initiative, CMS partnered with seven organizations in 2012 to implement evidence‑based interventions that both improve care and lower costs, focusing on reducing preventable inpatient hospitalizations among long-term residents of nursing facilities. The second phase of this initiative, which will launch in October 2016, will test a payment model that funds higher‑intensity interventions in nursing facilities to treat beneficiaries and avoid unnecessary hospitalizations. This initiative has served an estimated 16,000 Medicare-Medicaid enrollees each month and has enhanced care for many others served by these nursing facilities.
Image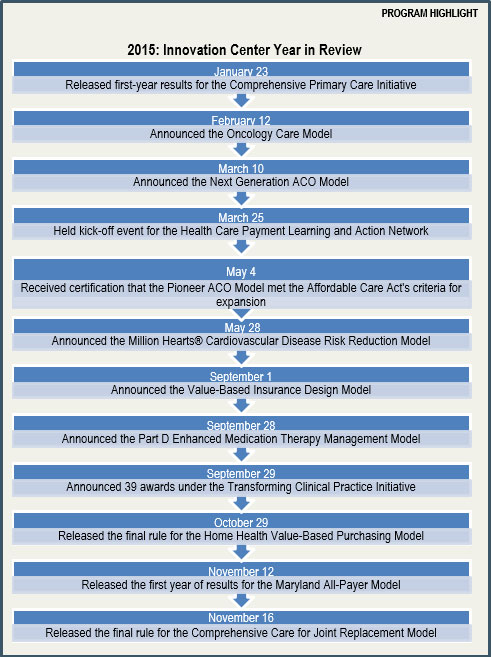 Next:
Center for Medicare & Medicaid Innovation