Topics on this page: ACF Discretionary Budget Overview | ACF Discretionary Programs and Services | Serving Americans at Key Stages of Life | Serving Vulnerable Children | Protecting Vulnerable Individuals | Strengthening Communities | Evaluation and Innovation
---
Administration for Children and Families (ACF): Discretionary

The Administration for Children and Families promotes the economic and social well being of children, youth, families, and communities, focusing particular attention on vulnerable populations such as children in low income families, refugees, and Native Americans.
ACF Discretionary Budget Overview
(Dollars in millions)
Early Childhood Programs
2015
2016
2017
2017
+/-2016
Head Start

8,598

9,168

9,602

+434

Child Care & Development Block Grant (discretionary)

2,435

2,761

2,962

+201

Preschool Development Grants /1

250

250

350

+100
Refugee Programs
2015
2016
2017
2017
+/-2016
Transitional and Medical Services

383

490

581

+91

Unaccompanied Children

948

948

1,321

+373

   Contingency Fund, (non-add)

--

--

95

+95

Other Refugee Programs

229

237

283

+46

   Victims of Trafficking (non-add)

16

19

22

+3

Subtotal, Refugee Programs
1,560
1,675
2,185
+510
Programs for Vulnerable Populations
2015
2016
2017
2017
+/-2016
Chafee Education & Training for Foster Youth

43

43

43

--

Family Violence Prevention

140

158

163

+5

Adoption Incentives

38

38

38

--

Runaway and Homeless Youth Programs

114

119

126

+7

Child Abuse Prevention

94

98

109

+11

Child Welfare Programs

335

326

330

+4

Promoting Safe and Stable Families (discretionary)

60

60

80

+20

Administration for Native Americans

47

50

53

+3
Low Income Home Energy Assistance Program
2015
2016
2017
2017
+/-2016
Low Income Home Energy Assistance Program

3,390

3,390

3,000

-390
Community Service Programs
2015
2016
2017
2017
+/-2016
Community Services Block Grant

674

715

674

-41

Other Community Services Programs

55

55

19

-36

Subtotal, Community Service Programs
729
770
693
-77
Other ACF Programs
2015
2016
2017
2017
+/-2016
Disaster Human Services Case Management

2

2

2

--

Social Services Research & Demonstration

6

7

11

+4

Early Childhood Evaluation (non add)
--
--
3
+3
LIHEAP Evaluation (non-add)
--
--
2
+2
Federal Administration

201

205

206

+1

   Center, Faith Based/Community Initiatives (non-add) /2

1

--

--

--

Children's Research and Technical Assistance (discretionary)

--

--

10

+10

Transfer to Census CHIMP /3

--

--

-10

-10

Total Discretionary Budget Authority
$18,041
$18,041
$19,952
+$832
Full Time Equivalents

1,234

1,343

1,464

+121
Table Footnotes
1/ In fiscal years 2015 and 2016, funds for Preschool Development Grants were appropriated to the Department of Education.
2/ After FY 2015, funding for Partnerships is provided in the Office of the Secretary.
3/ Reflects $10 million in mandatory funds that were transferred to the Census Bureau SIPP program as enacted by Congress for FY 2015 (P.L. 113-235) and FY 2016 (P.L. 114-113).
ACF Discretionary Programs and Services
The Administration for Children and Families (ACF) provides critical assistance to America's most vulnerable children and families, while creating opportunities to achieve economic success. The FY 2017 Budget requests $20 billion, an increase of $832 million above FY 2016.  The FY 2017 Budget builds upon important investments made in FY 2016 and provides new resources to address critical needs in Head Start, child care, domestic violence programs, child welfare, anti-trafficking programs, and services for young people experiencing homelessness.  The Budget also supports other important programs that serve our nation's most at‑risk children and families, including refugees and unaccompanied children.
Serving Americans at Key Stages of Life
Research consistently identifies the significant positive impact that early childhood care and education programs can have on the development and lifelong success of children.  These impacts range from improved social and emotional development to educational outcomes and lifetime earnings potential.  This evidence has been reflected in the Administration's proposals to increase investments in early learning programs and to invest in the quality of these programs to ensure that low-income children receive services that reflect the most current research and are of the highest-quality.
Remarks at the University of Kansas on Middle-Class Economics and Child Care
"In today's economy, when having both parents in the workforce is an economic necessity for many families, affordable, high quality child care and early childhood education are not just nice-to-haves, they are must-haves. And studies show that children who get a high quality early education earn more over their lifetimes than their peers who don't."
President Obama,
January 22, 2015
The FY 2017 Budget continues to build on the policies and investments made throughout the Administration to expand access to a continuum of high‑quality early learning opportunities from birth to age five.  This effort includes extending the school day and year for children receiving Head Start services, providing funds to help states implement the quality and safety standards of the new bipartisan child care law, guaranteeing access to high‑quality child care for all low- and middle‑income families with young children, expanding access to preschool, and expanding voluntary, evidence-based home visiting programs.
Head Start
Two significant changes occurred in the Head Start program in the last year.  In the summer of 2015, the Department of Health and Human Services proposed a comprehensive revision of the Head Start Performance Standards to improve the quality of Head Start services, streamline and reorganize program requirements to make it easier to operate a high‑quality Head Start program, and reduce the bureaucratic burden on local programs.  In addition, in December 2016, Head Start received an additional $294 million to increase the number of children attending Head Start in a full school day and year program.  Research shows that full school day and year programs can produce stronger outcomes for children than programs that provide services for less time.  The FY 2017 Budget builds on that investment by proposing an additional $292 million to enable more Head Start programs to offer services for more hours per day and days per year.
The FY 2017 request also includes an additional $142 million cost of living adjustment to maintain enrollment in the program, including  preserving the Administration's historic expansion of Early Head Start and recent investments in the  Early Head Start-Child Care Partnerships. The Administration's investments in Early Head Start and Early Head Start‑Child Care Partnerships have more than doubled the number of infants and toddlers served in Early Head Start from 2008. 
Combined, these two investments represent a proposed increase of $434 million above FY 2016, for a total of $9.6 billion in Head Start funding in FY 2017.
Child Care
Congress reauthorized the Child Care and Development Block Grant in November 2014 for the first time in almost two decades.  The bipartisan reauthorization brought a historic re-envisioning of the program, recognizing the influence early childhood programs have on the development and lifelong potential of children, defining health and safety requirements for child care providers, ensuring continuity of services, and providing parents and the general public transparent information about the child care choices available to them.  In December 2015, HHS proposed revisions to the program regulations to reflect these changes. The FY 2017 request continues to propose funds to support implementation of the changes required by reauthorization and $82 billion in additional mandatory funds over 10 years to ensure that all low-and moderate-income working families with young children have access to quality child care by 2026. 
The total FY 2017 request for the Child Care and Development Fund is $9.5 billion, including $6.6 billion in mandatory funding and $3 billion in discretionary funding under the Child Care and Development Block Grant.  The discretionary funds for child care provide an additional $200 million above FY 2016.  These funds will help states implement the new statutory requirements of the reauthorization and include $40 million for pilots that will test innovative strategies to address the child care needs of working families, such as care during non-traditional hours and in rural areas.
Preschool Development Grants
The FY 2017 request includes $350 million for Preschool Development Grants.  The program was launched in FY 2014 with awards to 18 states and provides grants to support states in building or expanding high‑quality preschool systems, including investments in workforce development and quality infrastructure components or expanding high‑quality preschool programs in targeted high-need communities.  The program is jointly administered with the Department of Education and paves the way for the successful implementation of the President's Preschool for All initiative.  Funding is provided within the FY 2017 HHS request pursuant to the Every Student Succeeds Act.  The request also includes a set-aside for pilots to explore innovative approaches to improve the transitions of children from preschool into kindergarten, improve the early grades, and support exemplary child development practices.
Serving Vulnerable Children and Families
The FY 2017 Budget includes new investments to prevent child abuse, enhance services for runaway and homeless youth, serve refugees and unaccompanied children, and strengthen anti-trafficking programs.
Child Abuse and Trafficking Prevention
The Budget requests $109 million for Child Abuse Prevention, including an $11 million increase for child trafficking prevention.  Research shows that young people receiving child welfare services can be at-risk from traffickers luring them into the commercial sex trade.  ACF plans to award grants to develop better tools to be able to identify victims, prevent child trafficking, and develop comprehensive services to foster youth who have been exploited.  ACF will also fund the National Advisory Committee on the Sex Trafficking of Children and Youth. This will ensure robust implementation of the Preventing Sex Trafficking and Strengthening Families Act of 2014 and the Justice for Victims of Trafficking Act of 2015.
Runaway and Homeless Youth
Youth experiencing homelessness face the possibility of exploitation, victimization, and other long-lasting, negative outcomes.  While further study is necessary, research and program data suggest that a substantial portion of the young people who enter emergency shelter return to their families' homes within a few weeks.  For that reason, the Budget requests $2 million to examine strategies to prevent those young people from experiencing homelessness at all and to more successfully ensure that, once youth reunify with their families, they do not return to homelessness.  The Budget also proposes $2 million to expand transitional housing for those young people who are not able to quickly return to stable housing.  In addition, the Budget requests $2 million to build on the efforts by the Department of Housing and Urban Development, in conjunction with HHS, to conduct a nationwide study of young people experiencing homelessness to better understand the entire population of young people who experience homelessness.  These efforts will further the Administration's commitment to eliminate youth homelessness by 2020 and support the work of the U.S. Interagency Council on Homelessness. 
Protecting Vulnerable Individuals
Refugees and Unaccompanied Children
The United States has a proud history of welcoming refugees and other vulnerable populations seeking humanitarian relief.  Since the passage of the Refugee Act in 1980, over 3 million refugees from more than 70 countries have been given safe haven in the United States, freedom from persecution and displacement, and the chance at a new beginning.  In light of a global displacement crisis, the Administration has committed to expanding the Refugee Admissions Program in FY 2016 and FY 2017.  All refugees are subject to the highest level of security checks of any category of traveler to the United States, a multi-layered and intensive process involving various law enforcement, national security, and intelligence agencies across the federal government.
ACF's role, in collaboration with state and local governments and an extensive network of public‑private partnerships, is to link these newly-arrived humanitarian populations, including refugees, asylees, special immigrant visa holders, and Cuban entrants, to key resources vital to becoming self‑sufficient, integrated members of American society.  To respond to the displacement crisis, The President's Budget request would support a total of 213,000 humanitarian arrivals  in FY 2017, including 100,000 refugees, consistent with the Administration's commitment to admit at least this number of refugees in FY 2017.  Funds would provide initial cash and medical assistance to the new arrivals and also allow HHS to continue to provide critical social services to increasing populations of humanitarian entrants.  The Budget will support English language skills, job training, translation services, and remove other barriers to employment.  Included in this request is a significant increase in funding for survivors of torture, as many populations expected to be admitted in FY 2017 are likely to have experienced significant trauma.
Image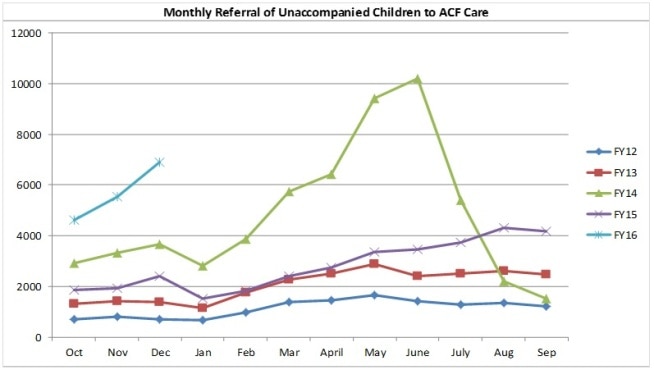 Unaccompanied Children
HHS is legally required to provide care and custody to all unaccompanied children who have been referred after being apprehended by immigration authorities, while they await immigration proceedings.  Children remain in ACF's care until they can be released to an appropriate sponsor, usually a family member, while their immigration cases are processed.  The overall number of unaccompanied children referred to HHS in FY 2015 was far fewer than the previous year, but still represented the second highest year in the program's history.  Based upon the recent increase in unaccompanied children apprehended at the southwest border during the beginning of FY 2016, ACF is adding temporary capacity so it is adequately prepared to care for the children.  This action is a prudent step to ensure that the Border Patrol can continue its vital national security mission to prevent illegal migration, trafficking, and protect the borders of the United States.
ACF is continuously monitoring the numbers of unaccompanied children referred for care, as well as the information received from interagency partners on conditions that may impact migration flows.  The recent history of the program demonstrates the unpredictable nature of caseloads and the necessity of prudent planning and budgeting. To ensure that HHS can provide for all unaccompanied children referred for care in FY 2017, the Budget includes $1.3 billion, the same amount of total base resources as available in FY 2016.  The Budget also includes a contingency fund that would trigger additional funds only if the caseload exceeds levels that could be supported with available base funding.
Victims of Human Trafficking
The Office on Trafficking in Persons leads ACF-wide efforts to combat human trafficking and modern forms of slavery by administering anti-trafficking programs and collaborating with federal, state, tribal, and local government and non-government organizations. Funds for this effort include the additional $11 million requested for Child Abuse and Trafficking Prevention, described above.  The Budget also includes $22 million in refugee program funding to assist foreign national and domestic victims of human trafficking through victim identification, comprehensive services, research, training, and prevention.  The refugee program includes an increase of $3 million to expand capacity to serve the increased number of trafficking victims requiring services.
Family Violence Prevention and Services
The Family Violence Prevention and Services program is the primary federal funding stream for shelter and supportive services for victims of family violence, domestic violence, and dating violence and their dependents. The Budget includes $163 million for the program, which includes an increase of $1 million to create an Alaska Native Tribal Resource Center on Domestic Violence and $4 million to expand the capacity of the National Domestic Violence Hotline, to ensure timely response to calls, increase bilingual services, and expand online chatting and texting services.  Alaska Native villagers are disproportionately affected by domestic violence, but there is only one tribal shelter in the entire state.  This shortage of services combined with the difficulty of traveling between communities requires innovative approaches for providing services and creates a unique need for capacity building and networking that the state specific resource center will provide.
Low Income Home Energy Assistance Program (LIHEAP)
Image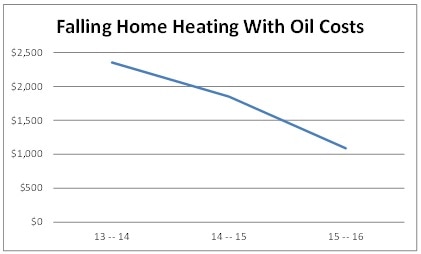 The Budget includes $3 billion for LIHEAP, a decrease in funding that reflects a difficult decision in a challenging budget environment.  Lower fuel prices and warmer weather have decreased home heating costs, and the Department of Energy predicts that the cost of heating a home this winter (2015 – 2016) will be less than last winter for all major fuel types.  Decreases range from six percent for homes heated with electricity to forty‑one percent for homes heated with oil.  To help address unexpected demands on the program, the Budget again includes a new mechanism to provide additional mandatory funds triggered by significant increases in the price of fuel, the number of eligible low-income households, or extreme cold at the beginning of winter.
Strengthening Communities
Native Americans
American Indians and Alaska Natives bear a disproportionate burden of premature death, disease, disability, and injury compared to other Americans, including persistently high rates of suicide, particularly among native youth.  To address these disparities, the FY 2017 Budget includes funding increases to Native youth initiatives in ACF, IHS, CDC, and SAMHSA.  Within ACF, $2 million is included for Native youth resiliency and leadership development grants, as well as $1 million for a new training and technical assistance center to support capacity building and assist Tribes and native organizations in accessing federal and other funds.  The Promoting Safe and Stable Families program also includes a $20 million increase to assist Tribes in developing the capacity to operate their own child welfare.
Community Services Programs
In FY 2016, Congress established a requirement that the Community Services Block Grant implementing agencies meet a set of performance standards.  The Budget provides $674 million, consistent with the FY 2016 request.  This budget level supports implementation of ongoing performance reforms.  A new proposal provides short term flexibility for states to invest in the modernization of data systems.  The budget continues to propose a set-aside for research and evaluation to help HHS and states learn more about evidence-based practices and greater authority to take timely action to protect federal funds in the event of program integrity issues.  Funding is not requested for the Rural Community Facilities program or the Community Economic Development program.  Similar activities are conducted in the Departments of Agriculture and Treasury, and ACF will collaborate with those agencies on continued implementation.
Evaluation and Innovation:
ACF's mission demands that it continually innovate, improve and learn.  Through evaluation and the use of data and evidence, ACF and our partners learn systematically so that we can make our services as effective as possible.  ACF has been recognized by the Government Accountability Office as an agency with mature evaluation capacity and an evaluation culture.
Evaluation and Innovation
While some ACF programs have dedicated research and evaluation funding, many are studied using Social Services Research and Demonstration funds.  The FY 2017 Budget includes a total of $11 million for Social Services Research, including $6 million for ongoing projects, $3 million to help identify the features of early care and education that are most important in supporting early childhood development, and $2 million for an evaluation related to LIHEAP.  In addition, the FY 2017 Budget requests an additional $4 million to bring total funding for the National Survey of Child and Adolescent Well‑Being to $6 million in the Child Welfare Programs.
Federal Administration
The Budget includes $206 million, an additional $1 million above FY 2016, to cover the cost of administering programs across ACF.  Base funding covers the salaries and benefits of most program staff as well as other administrative expenses, such as office space and the development and maintenance of information technology.  This increase will support five FTE needed to administer Preschool Development Grants jointly with the Department of Education.  Funding for the Center for Faith Based and Neighborhood Partnerships is requested within the Office of the Secretary, where the Center is administered, consistent with the FY 2016 Appropriation.
Next: