Topics on this page: HHS Budget in Brief | Budget Justifications | HHS Operating Plans | Contingency Staffing Plan | HHS Performance Reports | Agency Financial Reports | Quick Links | Offices to Contact | Previous HHS Budgets
---
HHS Budget
The Secretary Presents the FY 2016 Budget
HHS is the principal Federal department charged with protecting the health of all Americans and providing essential human services.  The Budget prioritizes core services and programs and makes targeted investments in training and support of health care providers, innovative biomedical research, food and drug safety, mental health services, health care for American Indians and Alaska natives, early childhood programs, and services for other vulnerable populations.
Budget in Brief
The Budget in Brief provides an overview of the HHS budget and how the budget supports the major initiatives of the Department. 
Digital Version: HHS Budget in Brief
Print version: HHS Budget in Brief
Highlights of the President's HHS FY 2016 Budget
Read our Budget Highlights to learn about funding highlights, reforms, and our major goals for serving the nation.
Budget Justifications to Congress
Office of the Secretary Staff Divisions:
Links to HHS Office of the Secretary Staff Division budget requests are listed below.
Operating Divisions Budget Requests:
Persons using assistive technology may not be able to fully access information some of these files. For assistance, contact the Operating Division or the HHS Office of Budget 202.690.7393.
---
HHS Operating Plans
Agency Operating Plans provide budget information for FY 2014 actual funding levels and FY 2015 operating level.
Office of the Secretary:
Operating Divisions:
---
Contingency Staffing Plan
Review the HHS contigency plans for agency operations in the absence of appropriations which would lead to furloughing 51% of HHS employees, and retaining 49%.
---
HHS Performance Information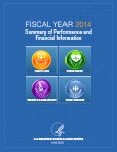 FY 2014 Summary of Performance and Financial Information
This report presents performance and financial information on the Department's eleven Operating Divisions and sixteen Staff Divisions. The next section highlights progress made toward achieving each of the four HHS Strategic Goals. This document ends with a discussion on some of the financial information and management challenges HHS faces.
Release Date: February 17, 2015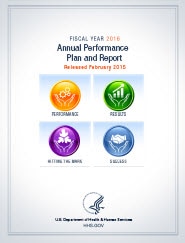 Annual Performance Plan and Report (APP/R)
This report sets forth the Annual Performance Plan for HHS, including specific performance goals for HHS programs and priorities, the level of performance to be achieved FY 2015 and FY 2016, and analysis of actual performance from FY 2011 through FY 2014.
Release Date: February 2, 2015
---
FY 2015 HHS Agency Financial Report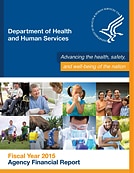 Our fiscal year 2015 Agency Financial Report provides fiscal and high-level performance results that enable the President, Congress, and American people to assess our accomplishments for the reporting period October 1, 2014, through September 30, 2015. This report provides an overview of our programs, accomplishments, challenges, and management's accountability for the resources entrusted to HHS.
 
The digital version of the FY 2015 HHS Agency Financial Report includes the following sections:
View previous financial reports.
---
Quick Links
Offices to Contact
HHS Budget – Previous Years