Centers for Medicare & Medicaid Services (CMS): Center for Medicare & Medicaid Innovation
The Centers for Medicare & Medicaid Services ensures availability of effective, up-to-date health care coverage and promotes quality care for beneficiaries.
CMS Center for Medicare & Medicaid Innovation Budget Overview
(Dollars in millions)
Obligations and Outlays 

2013

2014

2015

2015
+/ 2014

Innovation Activities

856

1,424

1,306

-118

Innovation Supports

38

105

105

—

Administrative Expenses

59

108

111

+3

Total, Innovation Center Obligations

953

1,637

1,522

-115

Total, Outlays

656

1,054

1,444

+390
CMS Innovation Programs
The Center for Medicare and Medicaid Innovation ("Innovation Center") was established by Section 3021 of the Affordable Care Act. The Innovation Center is tasked with testing innovative health care payment and service delivery models with the potential to improve the quality of care and reduce Medicare, Medicaid, and CHIP expenditures. The Affordable Care Act appropriated $10 billion to support Innovation Center activities initiated from FY 2011 to FY 2019.
Since its launch in November 2010, the Innovation Center has embarked on an ambitious research agenda. Models currently being developed and tested include Medicare payment reforms that encourage efficient and high quality care, new approaches to better coordinate care for beneficiaries who are enrolled in both Medicare and Medicaid, and new mechanisms to promote patient safety in hospitals. Additional models are currently under development and will be tested in the coming months and years.
In its first three plus years of operation, from FY 2010 through FY 2013, the Innovation Center obligated approximately $1.8 billion. Cumulative obligations are projected to increase to $3.5 billion by the end of FY 2014 and to nearly $5 billion by the end of FY 2015 as the portfolio of models being tested continues to expand. In FY 2014 and FY 2015, roughly 93 percent of spending is projected to be on specific models and initiatives, as well as necessary innovation supports, with the remainder dedicated to administrative expenses. Note that while model spending is projected to slightly decrease in FY 2015 (as compared to FY 2014), this primarily reflects the estimated timing of major awards, and not a contraction in the Innovation Center's portfolio.
Innovation Center Models
PROGRAM HIGHLIGHT -- Preliminary Results from the Pioneer ACO Model

The preliminary results from the first year of the Pioneer ACO Model are promising and demonstrate that the program can decrease costs and improve the quality of care. An independent evaluation of the Pioneer ACO Model showed that Pioneer ACOs generated gross savings of $147 million in their first year. Results showed that nine ACOs had significantly lower spending growth relative to Medicare fee for service while exceeding quality reporting requirements. Compared to local markets, Pioneer ACOs had lower growth in outpatient and physician spending and slightly higher spending growth for skilled nursing facilities and home health services.
As of January 2014, the Innovation Center is testing eighteen major payment and service delivery models under the authority of Section 3021 of the Affordable Care Act. The Innovation Center also administers several other Medicare demonstrations that are authorized and funded by other statutory authorities. Each of the models below will be comprehensively evaluated with the potential for expansion if they are certified to be effective at improving quality without increasing costs or reducing costs while maintaining quality.
Partnership for Patients: The Partnership for Patients is a collaborative effort by CMS and more than 8,400 stakeholders across the nation (including over 3,700 hospitals) to improve patient safety. The Partnership set ambitious targets of reducing hospital acquired conditions by 40 percent and hospital readmissions by 20 percent (compared to a 2010 baseline) over three years. While a final evaluation is not yet complete, early indicators suggest the Partnership has made significant progress towards many of these goals.
Health Care Innovation Awards: In 2012, the Innovation Center announced 107 recipients of Health Care Innovation Awards. These awardees, which include providers, payers, local governments, and other partners, are being provided with up to $900 million in total funding via cooperative agreements with CMS. Awardees were chosen based on the strength of their proposals to implement or expand compelling new models to improve care and reduce costs, with a particular focus on high need populations and workforce development. Awards span a three year time period.
In May 2013, the Innovation Center announced a second round of Health Care Innovation Award grants, focused on several key areas, including outpatient and post-acute care, populations with specialized needs, and population health. Awardees for this second round of funding will be announced in 2014. 
Bundled Payments:The Bundled Payments for Care Improvement initiative seeks to better coordinate care by providing a bundled Medicare payment for an episode of care involving one or more providers. Providers paid through the bundle may include (among others) hospitals, physicians, and skilled nursing facilities. The Innovation Center has begun testing four initial models as part of the broader Bundled Payments initiative – each model incorporates a somewhat different set of services and payment arrangements. However, within each model, providers or other risk-bearing organizations must offer a discount to Medicare as a condition of participation in the initiative. As of October 2013, providers were participating in all four of the bundled payment models. Additional participants will be added during 2014.
Accountable Care Organization Models: As part of CMS's effort to promote accountable care organizations (ACOs), the Innovation Center has launched two major initiatives. Both of these initiatives build upon the Medicare Shared Savings Program established by the Affordable Care Act.
The Pioneer ACO Model allows health care organizations and providers that are already experienced in coordinating care for patients across care settings to move more rapidly to a population based Medicare payment model. Pioneer ACOs assume more risk than participants in the Shared Savings Program and must commit to having the majority of their revenues (across all payers) come from performance based contracts in which payment depends on quality of care by the end of the second performance year. In January 2012, 32 organizations began participating in the model. Ten organizations have since dropped out, 7 of which have already transitioned to the Medicare Shared Savings Program and one that plans to make the transition in 2015.
The Advance Payment ACO Model tests whether pre-paying a portion of future shared savings can increase participation in the Medicare Shared Savings Program.
Providing up-front payments to certain physician led and rural organizations in the Shared Savings Program will allow these ACOs to make investments in infrastructure and staff in order to improve patient care and reduce costs. Advance payments will be recouped from the actual shared savings payments that ACOs earn. There are currently 36 ACOs participating in the Advance Payment Model.
FQHC Advanced Primary Care Demonstration:In 2011, the Innovation Center selected federally qualified health centers to participate in a three year demonstration to evaluate the effect of an advanced primary care practice model (also known as a patient centered medical home) on the quality and cost of care provided to Medicare beneficiaries. Participating health centers that pursue Level 3 status as a patient centered medical home (as defined by the National Committee for Quality Assurance) are eligible for additional Medicare care management payments. Currently, 473 federally qualified health centers are participating in this three-year demonstration, serving 208,000 Medicare beneficiaries and thousands of others also receiving care at participating sites.
Comprehensive Primary Care Initiative: In October 2011, the Innovation Center announced the Comprehensive Primary Care Initiative. In this initiative, private payers and state Medicaid programs partner with Medicare to invest in primary care. The Initiative was rolled out in two phases. The Innovation Center first selected seven markets with significant payer interest to participate in this demonstration. The markets include Arkansas, Colorado, New Jersey, Oregon, New York's Capital District Hudson Valley region, Ohio and Kentucky's Cincinnati Dayton region, and the Greater Tulsa region of Oklahoma. In August 2012, CMS selected approximately 500 primary care practices within these markets to participate in the initiative, serving an estimated 315,000 Medicare beneficiaries. The selected practices receive additional care coordination or similar payments from all participating payers, allowing them to transform their practices and make expanded services available to all patients. In years 2 through 4 of the initiative, practices have an opportunity to earn shared savings. The distribution of shared savings will be adjusted based on patient acuity, the number of attributed beneficiaries, and performance on quality metrics.
Strong Start for Mothers and Newborns: The Strong Start initiative, which began in February 2012, supports reducing the risk of significant complications and longterm health problems for both expectant mothers and newborns. The Innovation Center has worked with experts at the Centers for Disease Control and Prevention, National Institutes of Health, Administration for Children and Families, and the Health Resources and Services Administration to identify the goals and shape the direction of Strong Start.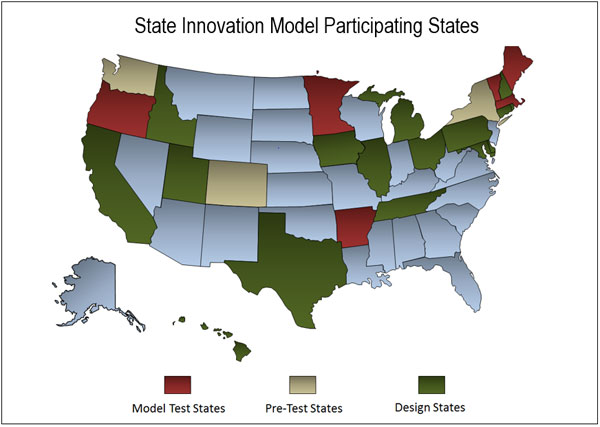 Strong Start contains two strategies: 1) a public/private partnership, building on the work of Partnership for Patients to test ways to encourage best practices and support providers in reducing early elective deliveries prior to 39 weeks; and 2) a four-year initiative to test the effectiveness of specific enhanced prenatal care approaches to reduce the frequency of premature births in pregnant Medicaid or CHIP beneficiaries. In February 2013, CMS awarded $41.4 million to 27 recipients under this initiative in 32 states and the District of Columbia and Puerto Rico, projected to reach 80,000 women enrolled in Medicaid and CHIP over the life of the demonstration.
State Innovation Models: This model provides up to $300 million to assist states in transforming their health care payment and delivery systems. In order to qualify for awards, states proposed reforms that incorporated multiple payers and that are expected to improve quality of care and the health of the state population, while reducing costs. Some states are receiving funding to support the design of new payment and delivery models or for similar pre-testing work. Other (more advanced) states have received funding to support the testing of such models. State awardees were announced in February 2013. See the associated map, which shows states currently receiving funding. The Innovation Center plans to make additional funds available to states on a competitive basis during 2014.
Maryland All-Payer Model: In January 2014, the Innovation Center announced that it was collaborating with the State of Maryland on a new model testing the impact of all-payer hospital rate-setting on the quality and cost of care. While Maryland has utilized all-payer rate setting for over three decades, this new model will allow the State to focus more directly on the challenges currently facing Maryland's hospitals. In particular, the new model will require limited overall cost growth, measurable savings for Medicare, and improvement on various key quality measures. If this model meets key goals over its initial five-year testing period, Maryland will have the opportunity to propose approaches to expand the model to other provider types, in addition to hospitals.
Comprehensive End-Stage Renal Disease (ESRD) Care Initiative: In February 2013, the Innovation Center announced the Comprehensive ESRD Care Initiative, which will incentivize providers to provide high quality, efficient, and coordinated care to Medicare beneficiaries who require dialysis. In order to participate, groups of providers (including dialysis facilities, nephrologists, and others) must form ESRD Seamless Care Organizations, which assume full clinical and financial accountability for assigned beneficiaries. These organizations will be eligible to share in any model savings with Medicare. Initial applications from providers to participate in this model have been received.
Initiatives Supporting Medicare-Medicaid Enrollees
More than 10 million Americans are enrolled in both the Medicare and Medicaid programs. Section 2602 of the Affordable Care Act established the Federal Coordinated Health Care Office, also known as the Medicare-Medicaid Coordination Office, to promote access to care, improve the overall beneficiary experience, and coordinate services for Medicare-Medicaid enrollees. This office also provides technical assistance to support states' efforts toward innovative service delivery for Medicare-Medicaid beneficiaries.
The Medicare-Medicaid Coordination Office has partnered with the Innovation Center to pursue several promising approaches to address the needs of these beneficiaries.
Medicare-Medicaid Financial Alignment Initiative: To incentivize high quality, coordinated care, CMS has partnered with states to design person-centered approaches to coordinating care across primary, acute, and behavioral health and long term supports and services.  States participating in the initiative have designed models to achieve savings using either a capitated payment system or the current fee for service structure. Implementation of the first financial alignment models began in 2013.  As of February 2014, CMS has approved capitated models in eight states and a fee-for-service model in one state. 
Initiative to Reduce Avoidable Hospitalizations among Nursing Facility Residents: Nursing facility residents often experience potentially avoidable inpatient hospitalizations, which are expensive, disruptive, and disorienting for the frail elderly and people with disabilities. Through this initiative, CMS partnered with seven organizations in 2012 to implement evidence-based interventions that both improve care and lower costs, focusing on reducing preventable inpatient hospitalizations among long term residents of nursing facilities. This initiative currently impacts approximately 17,000 Medicare beneficiaries daily. This initiative supports the Partnership for Patients' goal of reducing hospital readmission rates by 20 percent.
 
Next:
Center for Medicare and Medicaid Innovation