Administration for Children and Families (ACF)

The Administration for Children and Families promotes the economic and social well being of children, youth, families, and communities, focusing particular attention on vulnerable populations such as children in low income families, refugees, and Native Americans.
ACF Budget Overview
(Dollars in millions)
| Funds | 2014 | 2015 | 2016 |
| --- | --- | --- | --- |
| Mandatory Budget Authority | 33,981 | 33,808 | 39,852* |
| Discretionary Budget Authority | 17,678 | 17,791 | 19,825 |
| Total, ACF Budget Authority | 51,659 | 51,599 | 59,676 |
ACF Programs and Services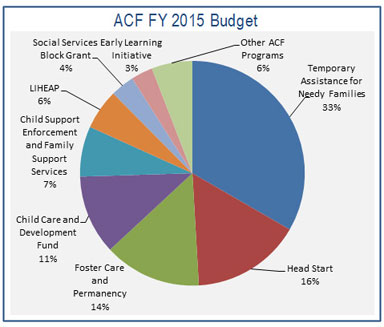 The FY 2016 Budget request for the Administration for Children and Families (ACF) is $59.7 billion.  ACF works in partnership with states and communities to provide critical assistance to vulnerable families while helping families and children achieve a path to success.  ACF's Budget supports enabling more parents to work or pursue education and training to better support their families while at the same time promoting the school readiness of their children.  This effort includes significant new investments to provide working families with access to quality child care, as well as continued reforms in Head Start and Child Support.  Funds are also included for programs that serve the most vulnerable children and families, including victims of domestic violence, dating violence, and human trafficking; children in the child welfare system; and unaccompanied children and runaway and homeless youth.
The Budget invests in the well‑being of children known to the child welfare system by increasing federal investment on the front-end of the child welfare service delivery system for evidence‑based and evidence-informed prevention and post‑permanency for children and youth likely to enter the foster care system, and promoting family‑based care as an alternative to congregate care settings.
Next: