Deputy Chief Administrative Law Judge
Judge Brian J. Haring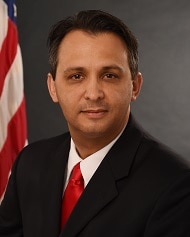 Brian J. Haring was appointed Deputy Chief Administrative Law Judge for the Office of Medicare Hearings and Appeals (OMHA) effective May 28, 2017. Judge Haring serves as the alter-ego to OMHA's agency head, the Chief Administrative Law Judge, who presides over the second largest federal administrative adjudicative system in the nation. OMHA's Administrative Law Judges (ALJs) decide Medicare coverage and payment appeals pursuant to Title XVIII of the Social Security Act. 
In July 2006, Judge Haring began his career at OMHA as an Attorney Advisor in OMHA's Cleveland Field Office.  In July 2009, he was appointed as a Supervisory Administrative Law Judge (SALJ) in OMHA's Miami Field Office.  In June 2014, Judge Haring was promoted to Associate Chief Administrative Law Judge (ACALJ). 
In addition to his adjudicative functions, Judge Haring has extensive management experience.  He co-led the OMHA ALJ Judicial Education Symposium and the Attorney Advisor Training Program.  He participated in the OMHA Workload Steering Committee which formulated ideas for presentation to the HHS Departmental Appeals Workgroup.  Judge Haring established the standard operating procedures for the OMHA Senior ALJ program and was a key figure in developing OMHA's training programs and support materials.  Judge Haring served as Cadre Chair for both the OMHA ALJ Judicial Education Symposium and the Attorney Advisor Training Program.  Judge Haring assisted the Office of Personnel Management in revising the ALJ Register evaluation process, by identifying core skill qualifications and developing testing criteria. 
Prior to joining OMHA, Judge Haring served as an appointed Special Counsel to the Attorney General of Ohio.  In this role, he represented the State of Ohio in collection and enforcement actions of assigned debts, including tax delinquencies, bankruptcy claims, past due fees, restitution, and penalties.  Additionally, he was the designated administrator of the Medicaid Estate Recovery Program in three counties.
Judge Haring earned his Juris Doctor from the University of Akron School of Law. He was a member of the Phi Alpha Theta Honor Society and earned his Bachelor of Arts in History from Miami University.
Content created by Office of Medicare Hearings and Appeals (OMHA)