Acting Chief Administrative Law Judge
Judge C.F. Moore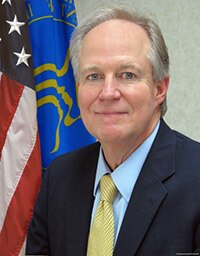 Judge C.F. (Spike) Moore was appointed Acting Chief Administrative Law Judge for the Office of Medicare Hearings and Appeals (OMHA) on May 10, 2020. In this capacity, he oversees the third level review for Medicare appeals within the U.S. Department of Health and Human Services and has responsibility for the second largest Administrative Law Judge (ALJ) corps in the federal system.
Judge Moore has extensive management experience having served as OMHA's Deputy Chief ALJ from 2011-2017. In that capacity, he served as the alter ego for Judge Nancy Griswold, the Chief Administrative Law Judge. During that period, he was heavily involved in developing and rolling out the agency's backlog mitigation strategy. He also led the field, serving as the first line supervisor to the Associate Chief Judges and the Hearing Office Directors. He was additionally in charge of ALJ hiring.
During his career as an Administrative Law Judge with the Social Security Administration (SSA), he was the Hearing Office Chief Judge at the Dallas North, the Dallas Downtown and Washington DC Hearing Offices. He also served in acting capacities as the Associate Chief ALJ and Deputy Chief ALJ in the Office of the Chief Administrative Law Judge. He was a key figure in SSA's ALJ hiring, designing the interview process and the background investigation process for all candidates referred by the Office of Personnel Management. From 2004-2011, Judge Moore was involved in the selection of over 750 ALJs for SSA, representing over half of the SSA ALJ Corps. In his role as the acting Associate Chief ALJ, he developed and directed the program of service area realignment to transfer approximately 40,000 cases nationally, along with related service areas and their receipts from heavily backlogged hearing offices to hearing offices with better capacities to be held via video teleconferencing. He also designed the decision writer statistical index, a mechanism to enhance case assignments to SSA attorneys and paralegals. Prior to that, as SSA's Acting Deputy Chief ALJ from December 2003 through July 2004, Judge Moore was the alter-ego to SSA's Chief ALJ and presided over SSA's administrative adjudicative system. In addition to his other duties for SSA, Judge Moore served as a course designer and instructor for the National Hearing Office Chief ALJ training and national docket management training. He has also been an instructor for new ALJ training, decision writer training, as well as other management training classes and seminars for SSA.
Prior to his appointment as an Administrative Law Judge in 1994, Judge Moore served for 11 years as the District Attorney for the 156th Judicial District of Texas. In this capacity, he was the chief felony prosecutor for three rural counties in Texas.
Judge Moore was awarded a B.A. in Government with high honors from the University of Texas at Austin and was inducted into Phi Beta Kappa. He holds a J.D. from the University Of Texas School of Law and worked for most of the period of his graduate and undergraduate career as a Legislative Aide in the Texas House of Representatives.
Content created by Office of Medicare Hearings and Appeals (OMHA)