Introduction
Topics in this Section: Message from the Secretary | About the Agency Financial Report
Message from the Secretary
I am pleased to present the Fiscal Year (FY) 2018 Agency Financial Report for the U.S. Department of Health and Human Services (HHS).  This report contains our financial and performance highlights over the FY ended September 30, 2018.
Each year, HHS is proud to execute on our mission to enhance and protect the health and well-being of all Americans.  We fulfill this mission through more than 300 programs across our Operating Divisions, facilitating effective health care and human services, and fostering advances in science and public health.
Our daily work is organized through five strategic goals, laid out in our 2018 – 2022 Strategic Plan:  (1) reforming, strengthening, and modernizing the nation's health care system; (2) protecting the health of Americans where they live, learn, work, and play; (3) strengthening the economic and social well-being of Americans across the lifespan; (4) fostering sound, sustained advances in the sciences; and (5) promoting effective and efficient management and stewardship.  In addition, I have identified four priorities for the Department that demand particular levels of focus and innovation:  (1) combating the opioid crisis; (2) reforming the individual market for health insurance; (3) bringing down the high cost of prescription drugs; and (4) transforming our health care system into one that pays for value.
At HHS, we aim not just to perform the regular duties necessary to achieve these strategic goals and make progress on our priorities, but also to transform our work and systems to achieve the same aims.  This year, the HHS team lived up to that ambitious calling.
Strategic Goal 1:  Reform, Strengthen, and Modernize the Nation's Healthcare System
In 2018, HHS took significant steps to improve the affordability and quality of American health care, including through greater competition and transparency.  The Food and Drug Administration approved a record number of generic drugs, improving affordability, while the Centers for Medicare & Medicaid Services worked to empower patients and providers through reduced burdens and expanded choices.  The Department endeavored to strengthen our health care workforce to better meet the nation's behavioral health needs and supported ways for health professionals to perform broader arrays of services, providing more access to care at a lower cost, especially in rural areas.  In addition, HHS worked to improve the integrity of our programs through reducing improper payment rates and health care fraud, protecting both program beneficiaries and the resources we use to serve them.
Strategic Goal 2:  Protect the Health of Americans Where They Live, Learn, Work, and Play
In 2018, the Department continued its focus on combating America's unprecedented crisis of opioid addiction and overdose, implementing its 5-Point Opioid Strategy to empower communities on the frontlines.  The Department expanded access to treatment and recovery services, with a special emphasis on medication-assisted treatment; increased the timeliness and accuracy of data on the crisis; and launched a new initiative at the National Institutes of Health to develop new treatments for pain and addiction and expand our understanding of our existing tools.  Another important health challenge is serious mental illness, which afflicts more than 10 million Americans each year; increasing the number of Americans who receive effective treatment is a priority goal for the agency for this coming year.  At home and abroad in 2018, HHS worked to support the implementation of the Global Health Security Agenda, which aims to protect the health of Americans by building capacity in every country to prevent, detect, and respond to infectious disease threats that can cross borders.
Strategic Goal 3:  Strengthen the Economic and Social Well-Being of Americans Across the Lifespan
HHS strives to help all Americans live up to their full potential, including through engaging beneficiaries of our programs in work and other forms of community activities.  In 2018, the Department worked with states to help them accomplish this goal in the HHS-funded programs they administer, while also providing flexibility in services delivery.  The Department took a broad, transformational view of how health and human services interact, approving community engagement requirements to improve health outcomes in the Medicaid program and exploring how integration between health care and human services can support a value-based health care system.
Strategic Goal 4:  Foster Sound, Sustained Advances in the Sciences
One of the unique assets HHS has to advance understanding of the medical and social sciences is its vast troves of data.  In 2018, the Department took a number of important strides toward maximizing the use of this data:  (1) hosting an Opioids Code-a-thon that brought together private-sector developers to work with an unprecedented assemblage of departmental data on the opioid epidemic; (2) initiating the development of a Department-wide data strategy; and (3) releasing, for the first time, Medicare Advantage claims data for researchers' use.  HHS also collaborated with the private sector to advance research and development in a number of areas where more vigorous biomedical research is needed, including through the launch of the Anti-Microbial Resistance Challenge to spur investment to counter anti-microbial resistance, a fundamental threat to our health and our health systems.
Strategic Goal 5:  Promote Effective and Efficient Management and Stewardship
In FY 2017, the Department launched an agency-wide effort, ReImagine HHS, to transform its operations and culture and become a more effective, efficient, and accountable organization.  In FY 2018, ReImagine HHS launched a portfolio of 10 initiatives that advance our work in a number of areas:  programmatic, like advancing human services and clinical innovation, and practical, like improving human resources management and coordination across the department.  ReImagine HHS aligns and contributes to the goals of the 2018 President's Management Agenda and has already been recognized as leading the government in several reform areas, including acquisitions and grants management.
Fiscal Accountability
HHS is committed to sound stewardship and ensuring the transparency and accountability of the resources Congress and the taxpayers entrust to us.  For the 20th consecutive year, we obtained an unmodified (clean) opinion on the Consolidated Balance Sheets, Statements of Net Cost, Statement of Changes in Net Position, and the Combined Statement of Budgetary Resources.  The auditors disclaimed an opinion on the sustainability financial statements, which comprise the Statement of Social Insurance and the Statement of Changes in Social Insurance Amounts.  This disclaimer is primarily due to the uncertainties surrounding provisions of the Patient Protection and Affordable Care Act and the impact of potential changes in law that would impact underlying assumptions of financial projections.  These statements were developed based upon current law using information from the 2018 Medicare Trustees Report, as required by standards issued by the Federal Accounting Standards Advisory Board.  The "Financial Section" of this report includes more detailed information.
We also evaluated our internal control and financial management systems, as required by the Federal Managers' Financial Integrity Act of 1982 and the Office of Management and Budget's Circular A-123, Management's Responsibility for Enterprise Risk Management and Internal Control.  We identified two material noncompliances relating to:  (1) improper payment error rate measurement, and (2) the Medicare appeals process.  The "Management's Discussion and Analysis" section of this report includes further details.  Based on our internal assessments, I can provide reasonable assurance that the financial and performance information contained in this report is complete, reliable, and accurate.
Future Challenges and Priorities
Though we are pleased with our accomplishments, we also know there are opportunities for improvement.  We worked closely with the Office of Inspector General to gain its perspective about our most significant management and performance challenges, which are presented in the "Other Information" section under FY 2018 Top Management and Performance Challenges Identified by the Office of Inspector General.  We are committed to addressing these challenges, including delivering quality services and benefits, exercising sound fiscal management, safeguarding public health and safety, and enhancing cybersecurity.
Conclusion
HHS employees are proud to serve our fellow Americans, both through accomplishing our goals and transforming our work to deliver on them even more effectively and efficiently in the future.  In the years to come, we will continue to work closely with our stakeholders and colleagues in Congress to take bold steps to enhance and protect the health and well-being of the American people.
/Alex M. Azar II/
Alex M. Azar II
Secretary
November 14, 2018
About the Agency Financial Report
The HHS FY 2018 Agency Financial Report (AFR) provides fiscal and summary performance results that enable the President, Congress, and the American people to assess our accomplishments for the reporting period October 1, 2017, through‍ September 30, 2018.  This report provides an overview of our programs, accomplishments, challenges, and management's accountability for the resources entrusted to us.  We prepared this report in accordance with the requirements of Office of Management and Budget Circular A-136, Financial Reporting Requirements.  This document consists of three primary sections and supplemental appendices.
Section 1:  Management's Discussion and Analysis
This section provides an overview of HHS's mission, activities, organizational structure, and program performance.  It also includes an overview of the systems environment; a summary of the Department's financial results and compliance with laws and regulations; and provides management's assurances on HHS's internal control.
Section 2:  Financial Section
This section begins with a message from the Acting Chief Financial Officer.  It continues with the independent auditor's report, management's response to the audit report, financial statements with accompanying notes, and required supplementary information, including the Combining Statement of Budgetary Resources, Deferred Maintenance and Repairs, and Social Insurance information.
Section 3:  Other Information
This section contains additional financial information and real property footprint data.  It also includes a summary of the financial statement audit and management assurances, civil monetary penalties, grant closeout efficiencies, and a detailed payment integrity report.  It concludes with the Inspector General's assessment of the Department's management and performance challenges.
Appendices
This section includes information that supports the main sections of the AFR.  This includes a glossary of acronyms used throughout the report and resources for connecting with the Department.
The Department produces an AFR and Annual Performance Plan and Report.  In conjunction with the release of the President's Budget in February 2019, additional reports that will be available on our website include: 
FY 2020 Annual Performance Plan and Report
FY 2020 Congressional Budget Justification
Certificate of Excellence in Accountability Reporting
In May 2018, the United States Department of Health and Human Services (HHS) received the Certificate of Excellence in Accountability Reporting (CEAR) from the Association of Government Accountants for its Fiscal Year (FY) 2017 Agency Financial Report.  The CEAR Program was established by the Association of Government Accountants in collaboration with the Chief Financial Officers Council and the Office of Management and Budget to further performance and accountability reporting.  Through the program, agencies improve accountability by streamlining reporting and improving the effectiveness of such reports to clearly show what an agency accomplished with taxpayer dollars and the challenges that remain.  FY 2017 marked the fifth consecutive year the Department received this prestigious award.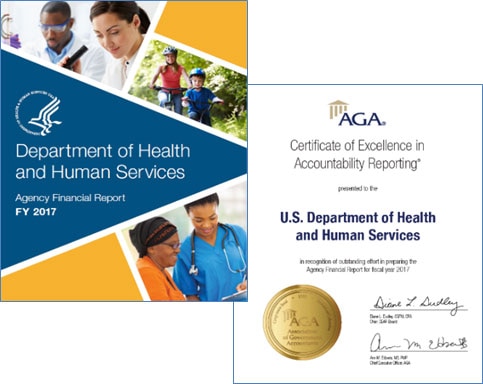 Content created by Office of Finance (OF)