Environmental Justice at HHS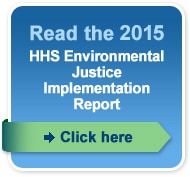 Conference presentations now available from the June
2015 HHS Climate Justice Conference.
Check back soon for webcasts of the general sessions and conference summary.
Environmental Justice (EJ) is the fair treatment and meaningful involvement of all people regardless of race, color, national origin, or income with respect to the development, implementation, and enforcement of environmental laws, regulations, and policies. 
The Environmental Protection Agency (EPA) leads the federal effort to provide an environment where all people enjoy the same degree of protection from environmental and health hazards.
Environmental Justice Spotlight

Environmental Justice at HHS

Learn About Your Environment
HHS Environmental Justice Strategy
The 2012 HHS Environmental Justice Strategy and Implementation Plan (2012 HHS EJ Strategy) provides clear direction of goals, strategies and actions to address environmental justice in minority and low-income populations and Indian tribes. The 2012 HHS EJ Strategy is organized into four interrelated strategic elements as follows:
Policy Development and Dissemination
Education and Training
Research and Data Collection, Analysis, and Utilization
Services
Read the 2012 HHS Environmental Justice Strategy | PDF – 778 KB
Read the 2012 HHS Environmental Justice Plan-At-A-Glance (PDF - 324 KB)
Read the 2015 HHS Environmental Justice Progress Report  | PDF - 109 KB
Read the 2014 HHS Environmental Justice Progress Report | (PDF - 1,153 KB)
Read the 2013 HHS Environmental Justice Progress Report | PDF - 2.07 MB
Read the 2012 HHS Environmental Justice Progress Report | PDF - 270 KB
---
Content created by Assistant Secretary for Health (ASH)
Content last reviewed on July 29, 2015