Two-Minute Drill: Get Covered This Week
Summary:
We need partners on the ground– especially during this last week – to remind men across the country that now is the time to take action and sign up.
There's now just one game left to go in the NFL season…unless you count the Pro Bowl. And why would you? (I mean, it's a pointless game played with little passion where the real winners are the ones who walk off the field with their ACLs intact.)
Speaking of which, if your fantasy football season was as bad as mine, you know that sometimes things don't go as planned. Just ask Le'Veon Bell, Keenan Allen and Jamaal Charles. They're just a few of the names on a very long NFL injury list this year – all great players who were poised to power their teams, and more importantly, to send my fantasy squad to playoff glory. Oh, well, if second place is the first loser, ninth place isn't so bad, right?
But back in the real world, when things don't go as planned, you have health insurance – or at least you should.
And that brings me to this Sunday. If you'll allow me to completely desecrate a metaphor for the sake of a blog post, here at HHS, you could say we're in playoff mode for the insurance season. Right around the corner is the January 31 deadline to sign up for 2016 health coverage. Think of it as a very nerdy 2-minute drill, albeit one with much higher stakes than any game.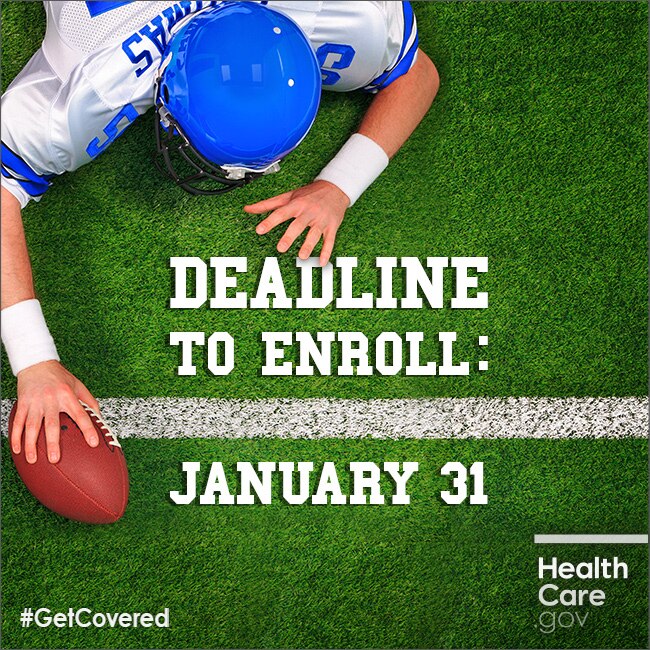 We've just completed a week where we've been particularly focused on getting men to sign up for 2016 coverage. Men account for nearly 6 million of the 10.5 million Americans who are currently uninsured and eligible to purchase health insurance coverage through the Health Insurance Marketplace.
Why are men seemingly more reluctant than women to sign up for health coverage? Maybe it's because men, especially young men, tend to feel indestructible. Maybe it's because we spend too much time worrying about whether Ryan Fitzpatrick or Tyrod Taylor would be a better waiver wire pick up. Or maybe it's because, as my partner often tells me, women are just smarter. In any case, the uninsured rate among men who are eligible and can afford coverage is unacceptably high. Our numbers would fill Levi's Stadium, home of Super Bowl 50, 87 times.
This is an urgent cause.
That's why a few weeks ago, representatives from three NFL playoff teams, including the AFC's top-seeded Denver Broncos, were at The White House to promote men's health awareness. They've been working with players and coaches to encourage friends and neighbors to get covered. We need partners on the ground– especially during this last week – to remind men across the country that now is the time to take action and sign up.
It may not make you any better at picking your fantasy team, but having a health insurance card in your back pocket makes life a lot easier when accidents happen. They always do. Just ask Le'Veon. 
Now that the fantasy football season is over, you can use your smart phone for something other than checking stats, like enrolling on HealthCare.gov from the comfort of your couch. It won't take four quarters to get the peace of mind of health insurance for 2016. Coverage is affordable – nearly 70 percent can find plans with monthly premiums of less than $75 per month after the tax credit – and signing up is easier than ever. Just don't wait until the Super Bowl halftime show to do it. The deadline is January 31.
Oh, and one more stat. How many Cabinet Secretaries have done Cam Newton's touchdown dab? One.
How'd we do, @CameronNewton? Only in the #CLT would I do this pose. @Noleezy #GetCoveredCharlotte pic.twitter.com/df28DclbJ2

— Sylvia Burwell (@SecBurwell) December 13, 2015
Open Enrollment ends January 31, 2016. Visit HealthCare.gov to enroll. Our consumer call-line is open 24 hours a day, 7 days a week at 1-800-318-2596. And people can sign up right in their communities. In-person help can be found online at LocalHelp.HealthCare.gov.
We need partners on the ground to remind men across the country that now is the time to #GetCovered for 2016 → http://1.usa.gov/1OTuBX2