U.S. & China: A Strong Partnership in Health
Summary:
The United States and China share a strong partnership in health.
The United States and China share a strong partnership in health. Today, Secretary Burwell, Chinese Vice Premier Liu Yandong and Commissioner Minister Li Bin of China's National Health and Family Planning Commission, met to recommit to that partnership, highlighting our strong responses to global health challenges such as the H7N9 influenza and Ebola outbreaks. Director of the Chinese Center for Disease Control Wang Yu and United States' Director of the National Institutes of Health Francis Collins also participated in the U.S.-China Symposium on Ebola, Research, and Global Health Security held at NIH.
Together, these Chinese and U.S. leaders committed to advance global health security in the months and years ahead, through collaboration on research and capacity building efforts in countries and regions vulnerable to an infectious disease outbreak, including West Africa.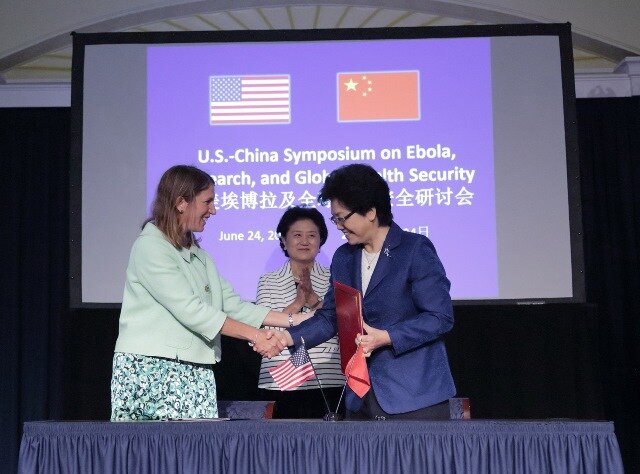 The U.S. and China were two of the first countries to respond to the recent Ebola outbreak. The U.S. sent surveillance teams, established treatment facilities and deployed thousands of public health experts. China mounted its largest-ever overseas global health effort in response to the Ebola outbreak in West Africa— delivering medical supplies, deploying clinical and public health experts, and building laboratory and clinical facilities. To prepare for future outbreaks, both countries expressed their commitment to the Global Health Security Agenda in building systems to prevent, detect and respond to infectious disease threats in support of the International Health Regulations. Secretary Burwell and Minister Li renewed a Memorandum of Understanding for the next five years on Emerging and Re-Emerging Infectious Diseases, committing to a plan of action to guide cooperation on global health security.
China and the U.S. share objectives for global health. As we work together to create a world safe from infectious disease threats, our own societies will benefit. Today, our leaders agreed to collaborate on global health, engage on research and public health efforts focused on Ebola, and initiate cooperative activities that support global health security over the next year. This agreement will lead to further accords on global health security to advance our valuable health partnership.