Protecting Your Skin
Summary:
There are a number of ways to ensure you protect your skin and prevent melanoma.
Summer is a time for sun. It's a time for hitting the hiking trails or picnicking, heading down to the neighborhood pool, or relaxing on the nearest beach.
But as we enjoy the beautiful weather, too many of us forget to take important steps to reduce our exposure to the sun. Skin cancer is the most common cancer in the United States and, tragically, most cases are preventable. About 9,000 people die of melanoma, the most deadly kind of skin cancer, every year in the United States. Nearly 5 million people are treated for skin cancer each year, and surveys show that each year 1 out of every 3 Americans gets a sunburn—a sign of overexposure to ultraviolet rays and a major cause of skin cancer.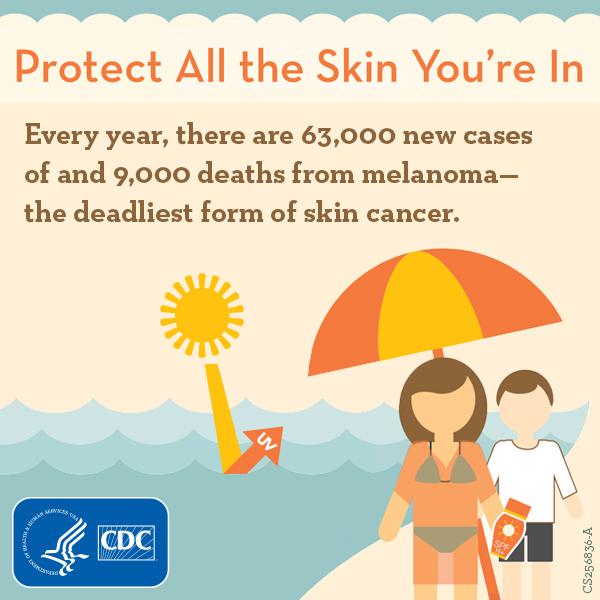 Despite these statistics, a recent CDC study shows that a majority of Americans do not use sunscreen regularly and effectively.
There are a number of ways to ensure you protect your skin and prevent melanoma. A comprehensive approach to skin protection can help minimize the risk to you and your family, which includes sunscreen, hats, sunglasses, protective clothing and shade.
We should also debunk the myths about sun tanning. Tanned skin is not healthy skin. A tan is a sign that your skin is at increased risk for cancer. As the CDC has stated, a base tan is not a safe tan. In fact, what is commonly called a "base tan" is just your body's response to injury from UV rays, showing that damage has already been done. The sun protection factor (or "SPF") of a "base tan" is about 3 or less – not nearly enough to protect you from future exposure.
The rates of skin cancer, unlike almost all other kinds of cancer, are climbing. That's why the June issue of CDC Vital Signs is focused on melanoma prevention, and here at HHS, we are working to reverse the burden of skin cancer through research, prevention, education, and treatment.
But in the meantime, we need your help in using some tried and true methods of skin cancer prevention. You can start by setting a good example and choosing sun protection strategies that work:
Use broad-spectrum sunscreen with SPF greater than 15 to protect any exposed skin regularly and reapply as directed. 
Combine sunscreen with other skin protection, like seeking shade, especially during the midday hours, and wearing a hat, sunglasses and other clothes to protect your skin.
Avoid sunbathing and indoor tanning.
This message is especially important for young people because most sun exposure occurs during childhood and early adulthood. It's also easier to learn safe sun habits while you're young.
Teachers and other educators looking to keep their students safe from harmful UV rays can find more tips at the Sun Safety for America's Youth Toolkit, the Guidelines for School Programs to Prevent Skin Cancer, and the Shade Planning Manual for America's Schools. These three resources can help ensure that young people stay safe while enjoying time on playground.
The summer is a wonderful time to get out of the house, enjoy some outdoor activity and make memories with your family. Just remember to grab the sunscreen and use it in combination with other skin protection, pay attention to your skin cancer risk factors and keep your skin safe.