Fight the Flu!
Summary:
This week is National Influenza Vaccination Week, a time to highlight the importance of getting our flu vaccine.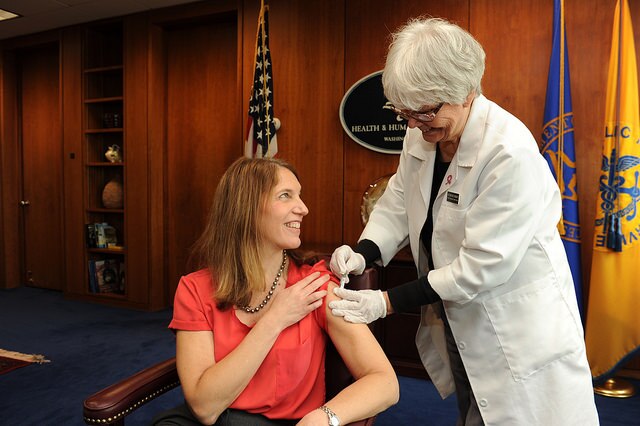 As we near the end of autumn, many of us begin preparing for the holiday season, but there's something else we need to prepare for as well: flu season. This week is National Influenza Vaccination Week, a time to highlight the importance of getting our flu vaccine.
From missed work and school, to doctor's visits or worse, the flu can take a big toll on your family. This season has already brought reports of serious illnesses, hospitalizations and even deaths. Thankfully, there are easy ways to fight the flu.
First, take the time to get a flu vaccine. Although some of the flu viruses this season are different than what's in the vaccine, vaccination can still offer some protection and is the most important step to preventing infection from the most common flu viruses. Anyone 6 months and older should be vaccinated, especially those who are at serious risk of flu complications, such as young children, pregnant women, those with chronic health conditions, and people 65 years and older.
Vaccinations are offered by most doctors' offices, clinics and pharmacies, and can sometimes be found at health and community centers as well. Thanks to the Affordable Care Act, health plans must offer these vaccinations at no out-of-pocket expense to you and your family. To find out where you can get vaccinated, go to HealthMap Vaccine Finder.
In addition to a flu vaccine, you should take everyday precautions against the spread of germs. Wash your hands often with soap and water, cover your nose and mouth with a tissue when you cough or sneeze and try to avoid close contact with sick people. If you have flu-like symptoms, try to stay home for at least 24 hours after the fever is gone to minimize exposing others to the virus.
And finally, make sure to take flu antiviral drugs if your doctor prescribes them. Antivirals can lessen symptoms and shorten your sick time. They may also prevent serious complications that could result in a hospital stay.
No one wants the aches, soreness and fatigue that can come with the flu, especially during the holiday season! So, get your flu vaccine and find out more about how to protect yourself and your family at CDC.gov and Flu.gov.